Gravallese completes leadership training for women in academic medicine
ELAM graduation makes nine 'Elums' at UMass Medical School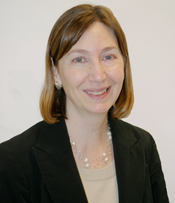 With the recent graduation of Ellen Gravallese, MD, from the Hedwig van AmeringenExecutive Leadership in Academic Medicine (ELAM) Program at Drexel University College of Medicine, UMass Medical School now boasts nine faculty who are 'Elums' of the only in-depth national program dedicated to preparing senior women faculty at schools of medicine, dentistry and public health to move into positions of institutional leadership. ELAM's mission is to increase the number and impact of women in senior academic leadership positions.
Dr. Gravallese (right), professor of medicine and cell biology and chief of the division of rheumatology in the Department of Medicine, is a member of the 18th ELAM class, which completed the intensive year-long fellowship with the capstone 2013 Leaders Forum in April. The event featured a poster symposium highlighting the fellows' Institutional Action Projects conducted at their home institutions to address an institutional or departmental need or priority. For her project, Gravallese planned a cross-institutional training grant in the areas of autoimmunity and sterile inflammation to prepare physician scientists and PhD postdoctoral candidates to conduct disease-related research across several departments and divisions at UMMS.
Gravallese joins these 'Elums' at UMass Medical School.
Julia Andrieni, MD, professor and vice chair of medicine and chief of general internal medicine
Joanna Cain, MD, professor of obstetrics & gynecology
Deborah Demarco, MD, professor of medicine and associate dean for graduate medical education
Julia Johnson, MD, professor and chair of obstetrics and gynecology
Katherine Luzuriaga, MD, professor of pediatrics and molecular medicine; chief of pediatric immunology, infectious diseases and rheumatology; associate provost for global health; and co-director of the UMass Center for Clinical and Translational Science
Michele Pugnaire, MD, professor of family medicine & community health, and senior associate dean for educational affairs
Gyongi Szabo, MD, PhD, professor of medicine and associate dean for clinical and translational sciences
Luanne Thorndyke, MD, professor of medicine and vice provost for faculty affairs
Related links on UMassMedNow:
Gravallese named to executive leadership program
Jean King named latest ELAM fellow
ELAM Fellows become 'Elums' and handoff to incoming class
Two at UMMS selected for executive leadership in academic medicine fellowship