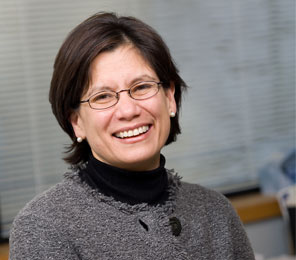 TIME named UMass Medical School's Katherine Luzuriaga, MD, to the 2013 TIME 100, the magazine's annual list of the 100 most influential people in the world. The full list and related tributes appear in the April 29 issue of TIME, available on newsstands and tablets on Friday, April 19, and available now attime.com/time100.
Dr. Luzuriaga, professor of pediatrics and medicine, was part of a team of researchers that last month reported the first case of a so-called "functional cure" in an HIV-infected infant. The finding may help pave the way to eliminating HIV infection in children. She headed a team of laboratory investigators on the discovery. Johns Hopkins Children's Center virologist Deborah Persaud, MD, was lead author on the report, and pediatric HIV specialist Hannah Gay, MD, associate professor of pediatrics at the University of Mississippi Medical Center, provided treatment to the baby.
"We are honored and humbled that our work has been considered influential," said Luzuriaga. "Our hope is that this will help to communicate the power and potential of scientific investigation for optimizing health outcomes for children. This work has benefitted from the strong scientific community here at UMass Medical School, as well as the work of numerous colleagues around the world. Together, we are committed to eradicating pediatric HIV infection and improving child health globally."
The list, now in its tenth year, recognizes the activism, innovation and achievement of the world's most influential individuals. As TIME managing editor Richard Stengel has said of the list in the past, "The TIME 100 is not a list of the most powerful people in the world, it's not a list of the smartest people in the world, it's a list of the most influential people in the world. They're scientists, they're thinkers, they're philosophers, they're leaders, they're icons, they're artists, they're visionaries. People who are using their ideas, their visions, their actions to transform the world and have an effect on a multitude of people."
Luzuriaga, who is director of the UMass Center for Clinical and Translational Science, has been at the forefront of pediatric HIV/AIDS research for many years and has been recognized for her collaborative research on the transmission of HIV from pregnant women to their newborns during birth, a leading cause of the rapid spread of HIV in developing countries. She is also recognized for her work on early therapy of HIV-1 infected infants.
Related links on UMassMedNow:
Researchers describe first 'functional HIV cure' in an infant
Discovery prompts new hope for pediatric HIV cure at UMMS