Felice honored with first Woman Physician Leadership Award
Massachusetts Medical Society cites her 'substantial and enduring contributions'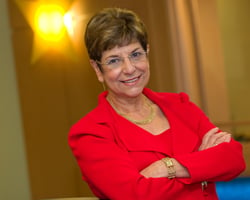 Marianne Felice, MD, professor of pediatrics and obstetrics & gynecology, is the inaugural recipient of the Woman Physician Leadership Award, established by the Massachusetts Medical Society to recognize outstanding leadership and contributions to patients and the medical profession by a woman physician.
In nominating her for the award, colleagues cited her substantial and enduring contributions to UMass Medical School, pediatrician training and care of infants and children saying she has been "a fierce advocate for children and women throughout the commonwealth."
"I am honored to receive this award, particularly as the first recipient," said Dr. Felice. "I know that there are many women physicians in this institution and across the commonwealth who deserve similar recognition. I am particularly grateful to the individuals who nominated me."
Felice is the former chair of the Department of Pediatrics and physician-in-chief for the UMass Memorial Children's Medical Center. She is principal investigator of the National Children's Study Worcester County Study Site Center and was the chair of the Worcester Infant Mortality Reduction Task Force for many years.
In 2011, Felice received the UMMS Chancellor's Medal for Distinguished Service for her legacy as a devoted clinician for adolescents and younger children, a mentor in high demand and a colleague with limitless energy.
The award will be presented at the Society's Women's Leadership Forum in the fall.