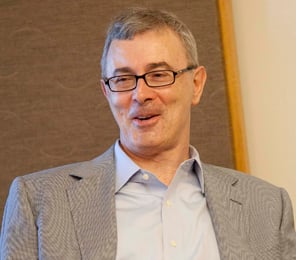 Former Massachusetts Gov. Paul Cellucci.
The first Governor Paul Cellucci Distinguished Lecture will be given on Friday, March 29, by Nobel Laureate and MIT Professor H. Robert Horvitz, PhD, whose discoveries related to apoptosis and programmed cell death form the basis for much of the current field of developmental and cancer biology. Working with Sydney Brenner and John Sulston, Dr. Horvitz was part of the group in Brenner's lab that methodically and painstakingly traced the life cycle of each cell in the nematode C. elegans and, in so doing, helped create one of the most influential research models in history.


"Bob Horvitz is a fitting figure to give the inaugural Cellucci Distinguished Lecture," said Robert H. Brown Jr, DPhil, MD, the Leo P. and Theresa M. LaChance Chair in Medical Research and chair and professor of neurology. "His research into how genes control cell development and cell death have opened many doors into our understanding of disease, including disorders like ALS."
In collaboration with others, Horvitz identified a gene involved in the inherited form of ALS, and he is also pursuing other genes involved in the disease, which killed his father in 1989.
In recognition of the critical need for new treatments for ALS, amyotrophic lateral sclerosis or Lou Gehrig's Disease, former Massachusetts Governor Paul Cellucci joined UMMS to create the UMass ALS Champion Fund to drive awareness and funding for the ALS breakthroughs happening at UMMS and in the laboratory of Dr. Brown, one of the world's leading ALS researchers.
Governor Cellucci announced in January 2011 that he has been diagnosed with ALS and is being treated at UMMS by Brown. News of Cellucci's diagnosis sparked an outpouring of support from friends and colleagues across the commonwealth and the country, including fellow former governors and other elected officials. Cellucci has chosen to use his story as a catalyst to support ALS research at Massachusetts' public medical school.
"I am proud to continue my career in public service by leading the UMass ALS Champion Fund," said Cellucci. "A champion helps to deliver great victories, and the UMass investigators are true champions of ALS research. But, victories are a team effort. Dr. Brown and his colleagues at UMass Medical School need our support."
Horvitz is a Howard Hughes Medical Institute Investigator and the David H. Koch Professor of Biology at MIT, where he is a member of the McGovern Institute for Brain Research and the Koch Institute for Integrative Cancer Research. His talk, "Genetic Control of Programmed Cell Death and Cellular Reprogramming in the Nematode Caenorhabditis Elegans" will take place on Friday, March 29, at 3 p.m. in the Albert Sherman Center Amphitheater (AS2-2102). A reception will follow.