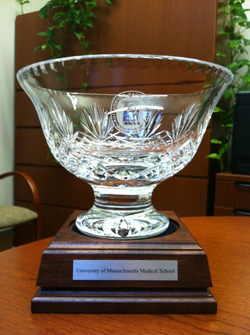 The $250,000 ACE/Sloan grant awards reward medical schools that are demonstrating promising practices that provide unbiased opportunities for work–life balance. UMMS will use the funds in part to create a new office of faculty talent management.
UMass Medical School has received a $250,000 grant for its innovative work in career flexibility for academic faculty from the American Council on Education (ACE) and the Alfred P. Sloan Foundation. UMMS is one of only five medical schools nationally and one of only two schools in Massachusetts to receive this award. Two additional schools received $25,000 awards.
ACE launched the award program after investigating the structural and cultural constraints for faculty career flexibility in academic medicine. The awards are part of ACE's ongoing work with The Alfred P. Sloan Projects for Faculty Career Flexibility. The awards were presented at ACE's Board of Directors meeting in Washington, DC, where Kathleen Christensen, program director, Sloan Foundation, and Darrell G. Kirch, president and CEO of the Association of American Medical Colleges delivered remarks.
"We are grateful to ACE and the Sloan Foundation for their leadership in recognizing excellence in faculty career flexibility," said Dr. Kirch. "We commend the awardees for their work to foster work-life balance in the institutional culture, which in turn is a major factor in faculty satisfaction. Our faculty are among academic medicine's greatest resources, and with the United States facing a shortage of more than 90,000 physicians by 2020, faculty retention is a topic none of us can afford to ignore."
The UMMS accelerator plan will focus on a central theme of faculty talent management: an institutionally integrated approach to support the needs of faculty throughout their careers through proactive and innovative faculty development and flexibility programs, policies and practices. A new office of faculty talent management will connect faculty with resources through a program of customized individual support.
Other linked initiatives will include standard guidelines that allow for customization of part-time employment and phased retirement policies to meet individual and departmental goals, expanded opportunities for faculty mentoring and new programs for faculty rejuvenation. Toward the end of the grant period, UMMS will convene a national conference to accelerate the dissemination of successful strategies for faculty flexibility and talent management.
"This is a great day for UMMS, the University and especially for our faculty," said Luanne Thorndyke, MD, vice provost for faculty affairs, professor of medicine and principal contact for the grant award. "We engaged our faculty in the process, creating a rapid-fire task force to design a strategic plan for the next two to three years. This award is a tribute to the work we have accomplished thus far on behalf of the faculty and to the innovative work we will be able to do as a result of receiving the award. We are grateful to the ACE and the Sloan Foundation for their investment in issues critical to faculty satisfaction and their recognition of UMMS."
Terence R. Flotte, MD, the Celia and Isaac Haidak Professor of Medicine, executive deputy chancellor, provost, dean of the School of Medicine, added, "I want to commend Dr. Thorndyke for her leadership on this effort. We are thrilled to bring this award to UMMS, along with the distinction this award represents."
Brief summaries of the institutions' award-winning activities can be found on the ACE website.