---
Among those who received degrees at UMass Medical School's 39th Commencement exercises this past June were six individuals—nearly 5 percent of this year's medical and biomedical sciences graduates—who had studied here years before they entered the doctoral programs. While still in college or high school, they participated in one or more UMMS summer outreach program for students from backgrounds that are underrepresented in medicine, or who are economically or educationally disadvantaged. The Office of Outreach Programs again hosted three diverse groups of young people this summer, all of whom shared the common goal of learning more about what it takes to become a physician, research scientist or other health care or biomedical science professional. This is the second in a three-part series highlighting the experiences of some of the students and educators who participated this summer in these potentially life-changing programs.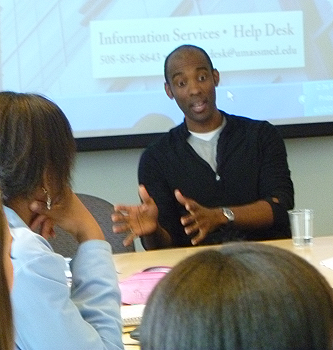 Timothy Veal, MD, SOM '11 addresses the members of the 2011 Summer Enrichment Program.
When Timothy Veal, MD, SOM '11 addressed the members of the 2011 Summer Enrichment Program (SEP) in a classroom at UMass Medical School, his audience of 10 college students leaned in and hung on his every word. Introduced by Robert Layne, MEd, as "someone who has taken advantage of all of the opportunities we have to offer," Dr. Veal is, in addition to being a newly minted physician, an alumnus of the SEP and other outreach programs run by Layne and the Office of Outreach Programs. Upbeat and relaxed during the short break between graduation and residency, Veal shared his reflections on life before, during and after medical school. "I know where everybody is at because I was there," he said. "It's a lot of work but it's so worth it."

The SEP is one of several enrichment programs UMass Medical School hosts each summer in order to increase the number of individuals from underrepresented and underserved backgrounds in the health care workforce. Now in residency as a commissioned officer in the U.S. Navy, Veal participated in all three summer enrichment programs available to him: he took part in both the SEP and the Summer Undergraduate Research Program while earning his bachelor's degree at Anna Maria College and Clark University, and he completed the UMMS High School Health Careers Program (HSHCP) while at Millbury High School. He later served as a dormitory parent for the HSHCP, and worked at UMMS as a research assistant for several years before gaining admission to the School of Medicine.

Veal's informal but frank talk was one of many classes, seminars and hands-on experiences in the tuition-free four-week residential program. With its goal to help participants improve their qualifications and competitive standing for admission to medical or other graduate school, the accelerated and intense SEP curriculum is designed to improve students' critical thinking, problem solving, note taking, test taking strategies, time management and decision-making skills.

Communication skills are enhanced through writing, public speaking, mock interviews and computer literacy. Students, many of them rising college seniors about to apply to medical and other graduate schools, are coached by a volunteer cadre of faculty and admissions experts who help them prepare for standardized exams, professional school applications and medical school interviews. Participants also learn the bottom line of financing a medical, graduate or professional education.

While SEP students are introduced to the wide range of health care professions, including biomedical science, nursing, physician assisting and pharmacy, most have their sights set on medical school, making the opportunity to shadow the Emergency Department teams a high point for some.

"My first trauma case was a middle-aged man who was flown in by Life Flight after a car crash. Unfortunately, the man did not survive, but the experience will forever stay in my memory," said Kelly Carreiro, a rising junior at UMass Dartmouth. "Everyone knew where they were supposed to be and what they were supposed to be doing. Being in the chaotic environment and seeing how the medical staff works together make me seriously consider emergency medicine as a potential specialty."

Carreiro was so excited by her SEP experience at UMass Medical School that she sought and found an opportunity to stay on for the rest of the summer, serving as a research assistant in the laboratory of Jack Leonard, PhD, professor of microbiology and physiological systems. (Learn more about the Leonard laboratory, which has long hosted high school and college students, in the final installment of the Summer Outreach Programs series.)

"The SEP was an eye-opening, all-encompassing experience for me," recalled Bency Louidor-Paulynice, MD, SOM '11, another SEP alumna who is continuing at UMMS as a family medicine resident. "It gave me the tools I needed to be a strong medical school candidate. This program solidified my interest in medicine and opened many doors for me."

The video below introduces two members of the SEP Class of 2011 who share their hopes of walking in Veal's and Dr. Louidor-Paulynice's shoes a few years from now as future physicians.