Flotte elected to ASGCT Advisory Council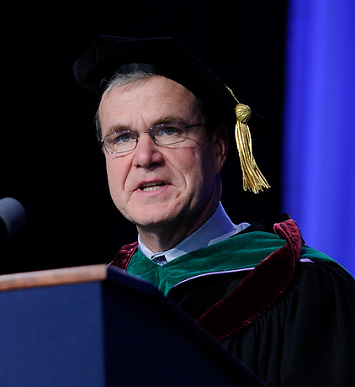 Terence R. Flotte, MD
Terence R. Flotte, MD, executive deputy chancellor, provost and dean of the school of medicine, theCelia and Isaac Haidak Professor in Medicine and professor of pediatrics and microbiology & physiological systems, has been elected to a five-year term on the Advisory Council of the American Society of Gene & Cell Therapy (ASGCT).

"I am delighted that Dr. Terry Flotte has been elected to the advisory council of our society. As well as being a long-time friend and colleague, Terry is a key contributor to the clinical development of gene and cell therapy," said Barrie Carter, PhD, the immediate past president of ASGCT. "The vision of ASGCT is to be a catalyst to transform the practice of medicine by incorporating the use of genetic and cellular therapies to control and cure human disease. Terry's broad experience and contributions to this field and his additional perspective as the leader of a major and rapidly developing medical school will be of enormous value in providing strong and effective council as the society strives toward this vision."

The ASGCT Advisory Council comprises past presidents from the preceding five years and five elected council members. The Advisory Council advises the ASGCT board and officers and makes recommendations to the board for both the Outstanding Achievement Award and Outstanding New Investigator Awards.

ASGCT is a professional non-profit medical and scientific organization dedicated to the understanding, development and application of genetic and cellular therapies and the promotion of professional and public education in the field. ASGCT includes researchers, clinicians and other professionals from around the world dedicated to discovering and developing new genetic and cellular therapies.

The society's goals are to promote research, development and application of genetic and cellular therapies to a wide variety of human diseases, and exchange information and promote education among professionals and the public through the Society's annual meetings, the ASGCT journal, Molecular Therapy, and interactions with scientific, medical and regulatory communities.

An internationally known pioneer in human gene therapy, Dr. Flotte is currently investigating the use of gene therapy for genetic diseases that affect children, mainly cystic fibrosis. In 1995, Flotte and his colleagues at Johns Hopkins became the first to use the apparently harmless adeno-associated virus, or

AAV, as a vehicle to deliver corrective genes to targeted sites in the body, including the damaged airways of adults with cystic fibrosis. Since joining UMMS, Flotte has continued his pediatric practice while pursuing clinical trials and basic laboratory research to determine how to treat genetic disorders using vectors, or viruses modified to carry corrective genes. He is the author of more than 180 scholarly papers and his research has been funded by the National Institutes of Health, the Cystic Fibrosis Foundation and the Juvenile Diabetes Research Foundation.