Page Menu
James Ledwith, MD, FAAFP - Tatnuck House Mentor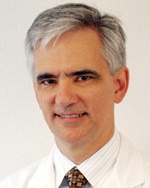 Dr. Ledwith is a graduate of the College of William and Mary and the Medical College of Virginia (VCU) in Richmond, VA. He completed Family Medicine Residency in Toledo, OH before entering rural practice in Virginia for 19 years. He has resided in Franklin, MA since 2006.
Dr. Ledwith is a family physician in the Benedict Family and Community Medicine Center. He joined the UMass Fitchburg Family Medicine Residency in 2005 and served as Residency Director 2008-2016. He moved his practice to the medical school campus but he continues to precept residents in Fitchburg weekly. He is a Learning Community Mentor and teaches physical diagnosis, interviewing, core family medicine clerkship curriculum, and safe opioid prescribing. He leads the health system's Improving Opioid Prescribing Work Group and is a Physician Consultant for the Massachusetts Consultation Service on Treatment of Addiction and Pain (MCSTAP), serving on-call to assist primary care physicians with challenges in patient care. Dr. Ledwith sits on the Board of Directors of free clinic he founded in Tappahannock, VA and he is the Faculty Advisor for the UMMS Worcester Free Clinics Coalition, serving as the Medical Director for the Epworth free clinic program.
He was honored as Community Clinician of the Year by the Massachusetts Medical Society in 2017 and he is a member of Alpha Omega Alpha Honor Society and Fellow of the American Academy of Family Physicians. His life is kept in balance by a tight knit family, including his three adult children (two married to fantastic partners), and a lab retriever that dutifully reminds him to take time for play. He finds joy in his work and in volunteerism, and in time with his grandchild.
"Don't order a test if you won't change what you will do with the results; and don't order a test if you won't know what to do when you get the results."
– Frank Snyder MD, Residency Director