Page Menu
Nidhi Chojar, MD - Kelley House Mentor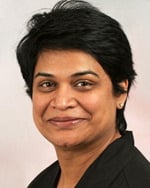 Dr. Chojar grew up on a University campus in Ludhiana, Punjab, India where her father and mother were professors. She graduated from Punjab University, Dayanand Medical College at the top of her medical school class. She did one year of residency in India before immigrating to the United States. She did research on Melanoma at MD Anderson Cancer Center, Houston for 2 years followed by a Transitional year residency at Temple University, Frankford Hospital, Philadelphia. She came to UMass Memorial as an Internal Medicine resident and completed her Internal Medicine residency in 2001. She has been a University of Massachusetts Chan Medical School faculty for 21 years in the Division of Hospital Medicine, Department of Internal Medicine.
Nidhi practices as an academic hospital medicine physician at the University campus. She has a keen interest in care of the seriously ill patients, end-of-life care, and teaching patient-centered and mindful practice of medicine. She is passionate about medical education and mentoring students, residents, and junior faculty. She directed the Hospital Medicine Mentorship program and served as site director for Internal Medicine Sub-internship at Memorial campus. She taught Doctoring in clinical skills-1 course for 4 years. She has been a Longitudinal Preceptor in Medicine for Internal Medicine clerkship since 2012 and assumed the role of Associate Clerkship director for Internal Medicine in May 2021. She has been a Kelly House Learning Community Mentor since 2019 and finds the relationships she has developed with her students and mentees to be immensely rewarding. She has won the Department of Internal Medicine teaching excellence award.
Nidhi lives in Shrewsbury and has two daughters in college. She calls herself a full-time clinician-educator-mentor-mom. In her free time, Nidhi enjoys spending time with her family, caring for her house plants, reading, hiking, biking, and listening to music.
"Develop three things in life: softness in the heart, sharpness in the intellect and happiness in the mind." - Sri Sri