Page Menu
Lisa Gussak, MD - Burncoat House Mentor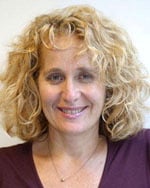 Dr. Gussak grew up in CT and completed her undergraduate studies in biology and women's studies at Tufts University. Following graduation, she worked for one year in Costa Rica on a field study looking at the effects of modernization on lipid profiles. She then worked for two years at Planned Parenthood of CT as a community educator. She attended the University of Connecticut School of Medicine and went on to complete a Family Medicine Residency at St. Paul Ramsey Medical Center in St. Paul, MN. Shortly after completing residency, Dr. Gussak completed a one-year faculty development program at the University of Massachusetts within the department of Family Medicine and Community Health.
Dr. Gussak is a Clinical Associate Professor of Family Medicine and Community Health. She practices Family Medicine in a community health center in Worcester MA which serves a culturally diverse, low-income population. In her clinical practice she focuses on family-centered maternity care, family planning, women's health and the care of children. Dr. Gussak has been involved in academic medicine and medical education since completing her residency. Her areas of academic interest include learner's in academic difficulty, advanced communication skills, coaching and mentoring. In 2014 she was awarded a Fulbright Scholarship to begin development of a Family Medicine residency program in Leon Nicaragua. She moved to Nicaragua with her family for a 6-month sabbatical in 2015. In 2015 her department recognized Dr. Gussak for her teaching with an excellence in education award.
She lives in Worcester, MA with her family and her adopted Nicaraguan dog. She is an amateur photographer and enjoys travel, consignment shopping, and exercising.