'Let's make UMass Chan the premier plastic surgery program'
Maxim Pekarev MD'13 and Eileen Pekarev MS, RN'08 establish UMass Plastic Surgery Residency Alumni Endowment
Date Posted: Monday, June 06, 2022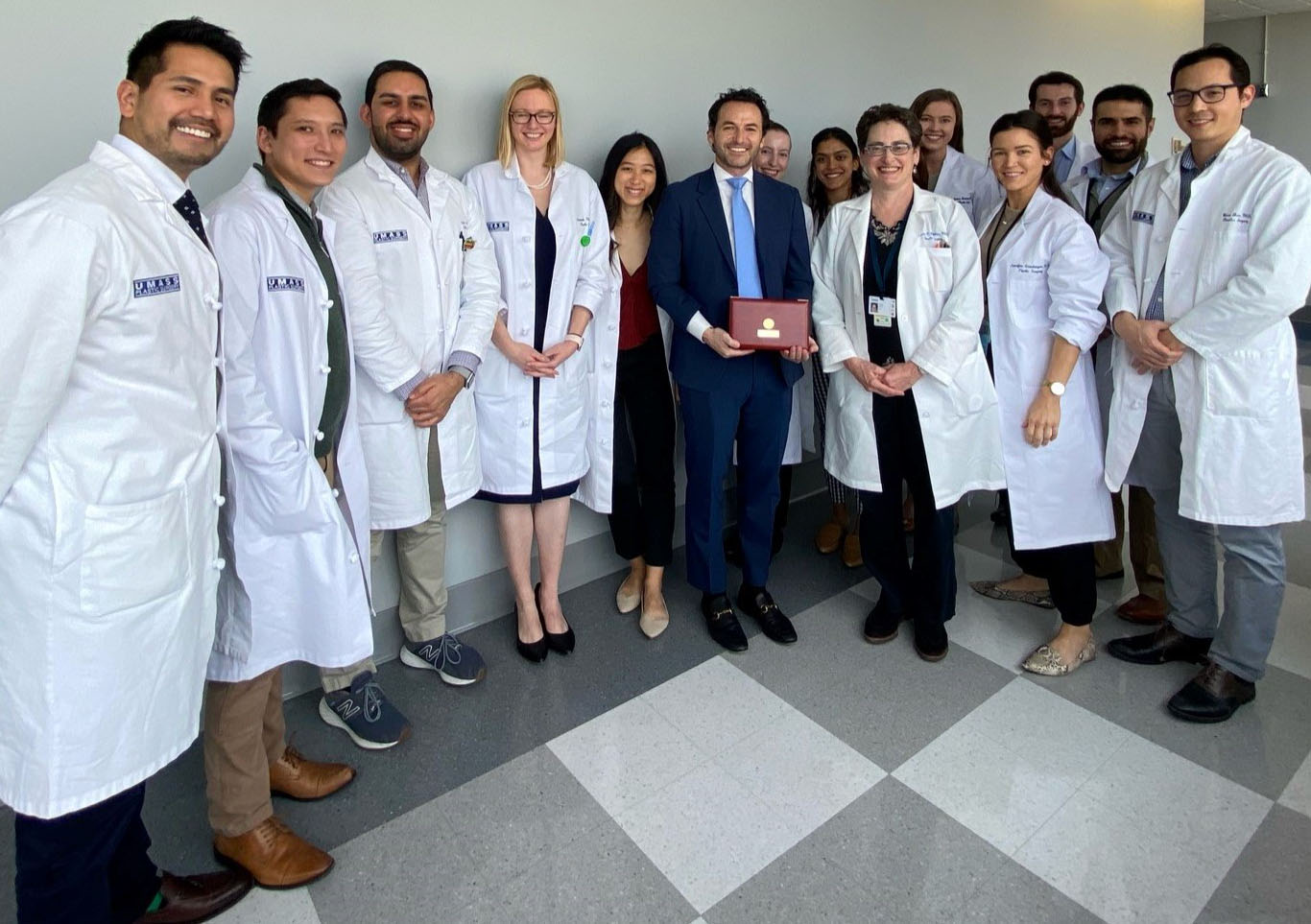 Community has been a driving force for Maxim Pekarev MD'13 throughout his plastic surgery career. The founder of MP Plastic Surgery, "Dr. Max"—as he's known to his patients—finds helping his Fort Worth, Texas, neighbors to be the most rewarding part of his practice.
With the newly established Plastic Surgery Residency Alumni Endowment at UMass Chan Medical School, Dr. Pekarev and his wife Eileen are taking that community approach a step further. The school's integrated plastic surgery resident program trains two residents a year in the full medical spectrum of plastic surgery. After completing his fellowship there in 2013 and opening his own practice, Dr. Pekarev wanted to help provide opportunities for residents to learn more about all aspects that come with a career in the field.
"When you go through residency, you are so mentally overwhelmed," said Dr. Pekarev. "There are things that are important, but it's hard to see the big picture. In practice, you realize a lot of things. I want to show my gratitude to the program and the attendings and help them educate the residents in the way they want to."
With that goal in mind, the endowment will help fund interactive events where alumni and residents can bond over insights that go beyond the operating room: how to start and staff a private practice, what to know about working for certain hospital systems, and how best to navigate the world of plastic surgery. The first series of events featured Dr. Mark Albert, a Worcester native and the founder and chief surgeon of Albert Plastic Surgery in Manhattan, New York.
"We know that nationally, there is a deficit when it comes to preparing plastic surgeons to go out in any other practice that isn't academic. There are very few programs in the country that have a structured entryway in the field or mentor relationships that happen organically," said Dr. Janice Lalikos, who runs the UMass Chan Medical School integrated plastic surgery residency program and taught Dr. Pekarev when he was a fellow. "With this endowment, we're strengthening our network. And that's invaluable for our residents."
A Russian native who moved to the U.S. when he was a teenager, Dr. Pekarev describes himself as a practical person. The supportive environment at UMass Chan appealed to him, he said, and he appreciated the emphasis on versatility within general plastic surgery.
"People at UMass Chan were kind and really worked hard to make good surgeons out of you," Dr. Pekarev said. "They were concentrating on making sure you could be in the position to heal as many people as possible."  
"I was humbled and honored when Max told me how he felt about the faculty at UMass Chan. He said he was much more prepared and resilient coming from our program than he thought other plastic surgeons were when he started his practice," Dr. Lalikos added. "I hope all the residents feel like that."
Dr. Pekarev isn't the only UMass Chan Medical School graduate in the family: he met Eileen MS, RN'08, a Shrewsbury native, while she was there earning her master's degree at the Graduate School of Nursing. They now have two daughters and return to Massachusetts annually for family vacations. The couple also works together at MP Plastic Surgery, where they have applied that mindset of all-inclusive, reconstructive healing for a broad range of patients—neonatal to elderly, head to toe.
The practice continues to expand, Dr. Pekarev said, with a total of eight physicians and more joining in the coming months. He has the same hopes of growth for the UMass Plastic Surgery Residency Alumni Endowment and encourages other alumni to contribute. With additional support, the fund can help upgrade the microsurgery courses and cadaver skills labs, plus expand simulation, virtual and technical offerings. 
"I want to make sure that the residents of the program have access to the best educational models, and that they take advantage of it and work hard to make it a high-yield experience," Dr. Pekarev said. "Let's make UMass Chan the premier plastic surgery program."