UMass Cancer Walk Breaks New Ground in Many Ways
Date Posted: Sunday, October 17, 2021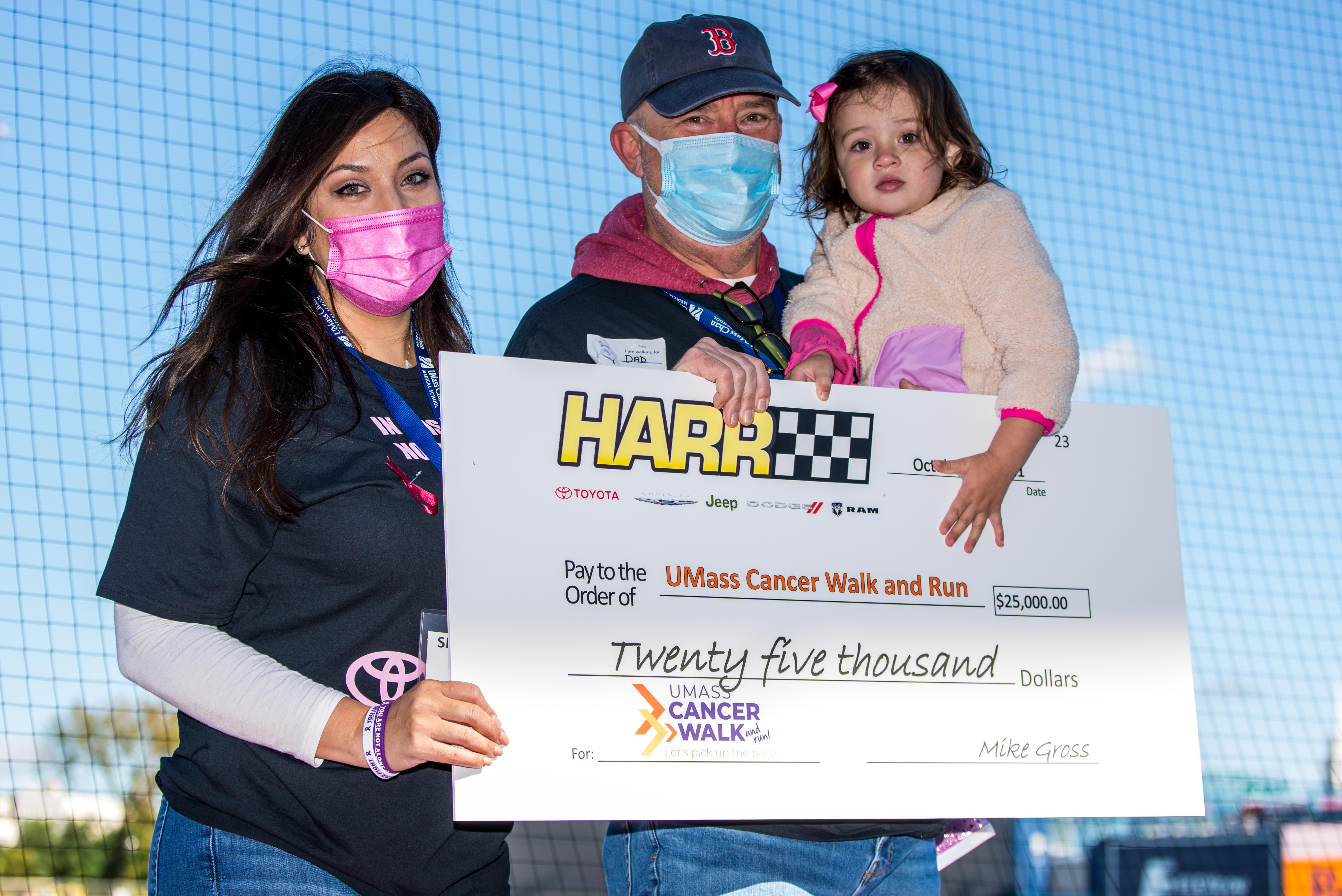 For the first time in its 23-year history, October's UMass Cancer Walk and Run took place at a new location and its main objective remained as clear and strong as ever – to raise funds supporting adult and pediatric cancer research and care, and clinical trials of potentially life-saving therapies underway at UMass Chan Medical School.
To fuel this vital work, individuals and teams came out in force and in-person, with more than 3,000 participants filling Worcester's Polar Park and surpassing event organizers' goals, raising more than $700,000.
"This year's event was unlike any before it," said Julie Bowditch, manager of the UMass Cancer Walk and community fundraising in the Office of Advancement. "Ongoing construction of our new education and research building and the new VA Community Based Outpatient Clinic on the UMass Chan campus influenced our move to Polar Park – and it made ours the biggest and best non-baseball event there to date!"
Bowditch noted that the location allowed participants to walk and run through the heart of Worcester, reinforcing the connection to a community served by the researchers at UMass Chan who are focused on conquering cancer through science.
"Being visible this year in another part of the city was a truly unifying experience. Participants are so invested, and not only individuals. Corporate support of our event is incredibly significant and this year sponsorships reached a record-breaking level. We thank all of our sponsors and businesses who took part, as well," Bowditch said.
In fact, it was an employee of LaMountain Bros., Inc., in Oxford, Massachusetts, who suggested creating a team for this year's Cancer Walk when they heard that their vice president and general manager Benjamin LaMountain's 11-year-old daughter, Olivia, was diagnosed with leukemia, just a month prior to the event date.
"We have a big family of employees," explained her aunt and team leader, Jennifer Voas. "Once this suggestion took hold, we got right to figuring out our next steps." With not a moment to lose, the organizers eventually fielded a mighty and enthusiastic team of 126, raising approximately $16,000, the third highest amount at this year's event and, according to Bowditch, a remarkable achievement for a new team.
"It was an honor to put a team together for Olivia," Voas said. "After her diagnosis, we were in shock. But preparing for the Walk gave the family something to follow. Olivia came home a day before the event but was too weak to participate, so the team did a drive-by afterward, and she was able to wave from her front yard."
While the LaMountain and Voas families were overwhelmed by the support of members of their community, who sponsored or attended the team's fundraising yard sales, wine tastings and school-based events, the Walk itself was also awe-inspiring, according to Voas.
"Being there and seeing how many lives are affected by cancer, we had to take a moment to realize it and reflect upon our own family's experience. We felt the love and support, and this made what we're going through a little bit easier."
Hopeful and looking toward the future, Voas said Olivia's Team has already started fundraising for the 2022 UMass Cancer Walk and Run. This unrelenting approach is one Bowditch hopes everyone committed to the cause will keep in mind.
"Cancer is not seasonal, and neither should the efforts of the event be, even though the Walk itself happens each fall," she said. "We'll never take time off until there's a cure."
Donations to the UMass Cancer Walk and Run are still being accepted, with 100 percent of the funds going toward research and clinical trials.