Giving milestone reached by UMass Medical School's leading scholarship donor
July 2019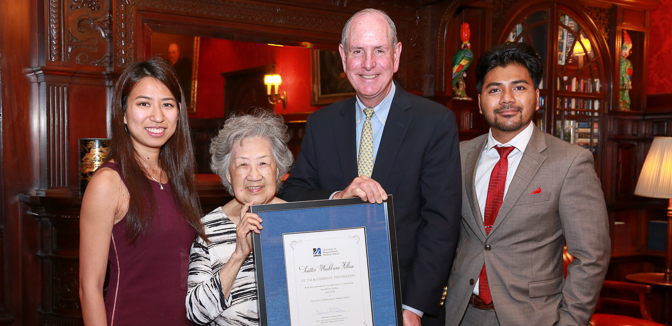 In making its annual contribution of financial aid for School of Medicine (SOM) students in FY19, the J.T. Tai & Company Foundation reached a notable moment in its longstanding support of UMass Medical School: its lifetime contributions topped the $1 million mark, making it the leading single donor to scholarships at the Medical School.
Since 2000, the Tai Foundation has supported more than 180 students here through scholarships, including 20 in the 2018-2019 academic year. The Manhattan-based foundation was established in 1982 by the late Jun Tsei Tai, a world-renowned dealer and collector of Chinese porcelain. Spurred by personal experience, Mr. Tai concluded that one of the best ways to ensure quality medical care was to support medical students financially, making it possible for them to focus on their educational goals, and launched his foundation to assist them.
"My path to medicine was an organic journey that grew from a multitude of life experiences," said Haley Schachter, SOM Class of 2022. "… not knowing from a young age that I would be attending medical school, I did not have savings for medical school. This scholarship is a wonderful gift that allows me to pursue my passion and excitement in medicine while not having worry as much about my financial obligations."
"I've had an interest in medicine ever since I was a young child," said Matthew Suzor, SOM Class of 2021. "This scholarship really helps me feel much more secure financially, which is something I have never felt before coming to UMMS."
Today, the Tai Foundation is overseen by Mrs. Y.C. Chen, Mr. Tai's longtime colleague in his art and real estate businesses. Working with the Foundation's trustees, she continues to keep the organization focused on the mission established by Mr. Tai more than 35 years ago.
To mark this defining philanthropic moment, current and former Tai Scholars Xinmiao (Bridget) Yang, SOM Class of 2020 (above, left), and Stephen Em, MD'19 (above, right), joined Chancellor Michael F. Collins at an intimate luncheon in New York City to present Mrs. Chen with a special certificate of recognition for the Tai Foundation's outstanding generosity.