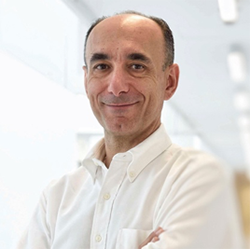 Jean-Laurent Casanova, MD, PhD, a world-renowned geneticist and expert in the fields of innate immunity and immunology, is the inaugural speaker for The Robert W. Finberg, MD, Memorial Lecture, which will take place on Thursday, March 23, at UMass Chan Medical School.
Dr. Casanova is a professor at The Rockefeller University and a senior attending physician at The Rockefeller University Hospital in New York City, where he's the head of the St. Giles Laboratory of Human Genetics of Infectious Diseases.
Casanova's presentation, "The human genetic and immunological determinants of life-threatening COVID-19," will explore his work in searching for rare and common single-gene mutations that selectively compromise the immunity of healthy individuals who are vulnerable to SARS-CoV-2 and other infectious diseases.
Casanova is a co-leader of the COVID Human Genetic Effect, an international consortium of researchers launched in 2020 to discover the human genetic and immunological bases of the various clinical forms of SARS-CoV-2 infection.
Dr. Finberg's distinguished career spanned four decades as a physician, infectious disease researcher and teacher. He was one of the nation's foremost virologists and was widely recognized as an expert on influenza. When the coronavirus pandemic erupted, he served as principal investigator on multiple COVID-19 clinical trials, including those to test the safety and efficacy of the Pfizer-BioNTech COVID-19 vaccine and remdesivir as a treatment for those with severe illness. He died unexpectedly on Aug. 30, 2021.
The lecture is being hosted by the Department of Medicine's Medical Grand Rounds on Thursday, March 23, at noon in the Albert Sherman Center Auditorium and is funded through the Robert Finberg, MD, Fund for Education and Training in Infectious Disease and Immunology. It will also be streamed via Zoom.