This year, the Program in Innate Immunity at UMass Chan Medical School will host the annual Innate Immunity Day scientific symposium in honor of Robert W. Finberg, MD. The event will take place Wednesday, May 25, from 11:30 a.m. to 5:45 p.m., in the Albert Sherman Center Auditorium.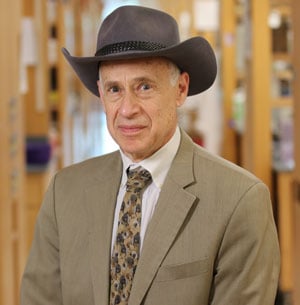 Dr. Finberg, chair emeritus and distinguished professor of medicine, died unexpectedly on Aug. 30, 2021, while he was still fully engaged in a distinguished career spanning four decades as a physician, infectious disease researcher and teacher. One of the nation's foremost virologists, his work elucidated understanding of viral receptors and entry to host responses and he was widely recognized as an expert on influenza.
When the coronavirus pandemic erupted, he served as principal investigator on multiple COVID-19 clinical trials, including those to test the safety and effectiveness of the Pfizer-BioNTech COVID-19 vaccine and remdesivir as a treatment for those with severe illness. He also served as a member of Gov. Charlie Baker's COVID-19 Vaccine Advisory Group.
Centered in the Division of Infectious Diseases and Immunology in the Department of Medicine, the UMass Chan Program in Innate Immunity is focused on discovering the underlying mechanisms that drive immune defenses and inflammation in health and disease. Research by interdisciplinary investigators ranges from fundamental studies, performed in invertebrate and vertebrate model systems, to human-based studies of infectious, inflammatory and autoimmune diseases, with the ultimate goal to develop treatments for infection, inflammatory diseases and cancer.
The program was established under the leadership of Finberg by Douglas Golenbock, MD, PhD, the Neil and Margery Blacklow Chair in Infectious Diseases and Immunology, professor of medicine and chief of the Division of Infectious Diseases and Immunology; and Katherine Fitzgerald, PhD, the Worcester Foundation for Biomedical Research Chair III, professor of medicine and chief of the Division of Innate Immunity, who co-direct the program.
Scientific talks on Innate Immunity Day will feature keynotes from Kenneth Rock, MD, chair and professor of pathology at UMass Chan; David Knipe, PhD, the Higgins Professor of Microbiology and Molecular Genetics at Harvard Medical School; and Sara Cherry, PhD, professor of microbiology at the Perelman School of Medicine of the University of Pennsylvania. In addition, colleagues, collaborators and friends will share personal tributes to Finberg.
Preregistration for Innate Immunity Day is required.
Related stories on UMassMed News:
Convocation 2021: Chancellor Collins outlines vision for new era at UMass Chan
UMass Medical School, UMass Memorial statement about Robert Finberg
Robert Finberg named distinguished professor of medicine