James Ledwith honored with Worcester District Medical Society community service award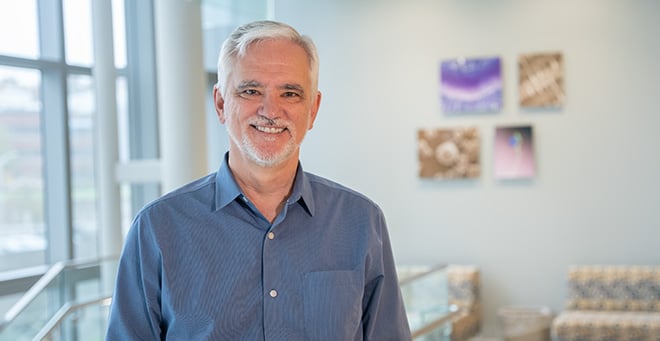 The Worcester District Medical Society is recognizing James Ledwith, MD, assistant professor of family medicine & community health, with the Dr. A. Jane Fitzpatrick Community Service award for his years of service to vulnerable patient populations in the Worcester area.
The award was established in 1991 as a tribute to the lifelong work of retired pediatrician A. Jane Fitzpatrick Kilroy, MD, who served Worcester's Department of Public Health as a school physician from 1959-1985. It recognizes a member of the health care community for contributions beyond professional duties to improve the health and well-being of others.
"I'm honored and really humbled because I look at the names of some of my colleagues who have received the award in the past," Dr. Ledwith said. "I've been quietly trying to go about doing this service work and engaging students, but receiving the award really is very meaningful and it's an honor to receive recognition for the work I've been doing."
The Worcester District Medical Society describes Ledwith as "an incredible resource, generous collaborator and outstanding patient advocate."
"[Dr. Ledwith] has defined his career through years of service to vulnerable patient populations. In particular, the care of patients suffering from the opioid crisis where he was instrumental in the development of guidelines for safe opioid prescribing for physicians and students," said Martha Wright, executive director of the group.
Ledwith is the medical director for a student-run free medical program at Epworth United Methodist Church on Salisbury Street in Worcester and has served as UMass Chan's faculty advisor for the Worcester Free Care Collaborative student group since 2018.
"I work to engage first- and second-year medical students before they are under the pressure of the clerkships and worrying about residencies, to talk about primary care, the gaps in primary care and the persistence of need for access for folks who are vulnerable," said Ledwith.
Ledwith is a family physician at UMass Memorial Medical Center. He serves as a learning community mentor at UMass Chan and instructor in the family medicine clerkship and residency program and the opioid safe-prescribing training immersion. Ledwith is also one of 11 physicians across the state working as an on-call consultant for the Massachusetts Consultation Service for Treatment of Addiction and Pain.
The award was presented to Ledwith on Nov. 15 during the Worcester District Medical Society's fall meeting.
"Receiving the award is thrilling. It's a great cap to all the work I've done over the last 40 years," said Ledwith. "Our education never ends. Maybe that's a good lesson for me to share with our medical students as well. We keep on learning and evolving our practice and our skills to meet the needs and I'm hoping I can encourage a few other younger physicians to take on this work as I prepare to slow down."
Related UMass Chan news stories:
Remillard Family Community Fund announces recipients of grants to improve local health
UMass Chan students to provide flu and COVID-19 shots at Halloween event on Sunday