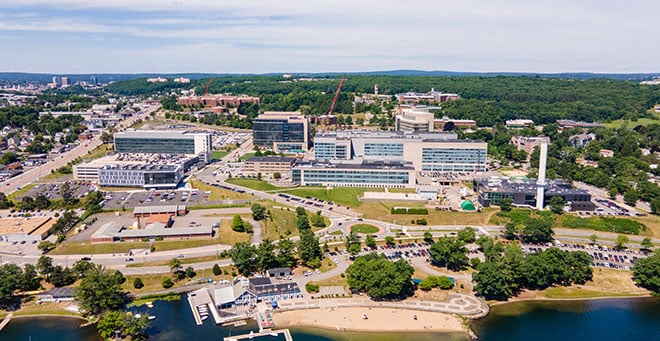 The Remillard Family Community Service Fund has announced the recipients of its 2022 funding cycle, awarding 10 grants to support innovative projects led by UMass Chan Medical School faculty and students that address local food insecurity, public health, bicycle safety, health care for vulnerable populations and diversity in the health care workforce.
Established at the Medical School in 2015 with a $3 million donation by the Remillard Family Foundation, the Remillard Family Community Service Fund is dedicated to providing ongoing support for community outreach programs.
"When discussing potential funding ideas with Chancellor Collins, we were immediately drawn to the concept of a community service fund that would make thoughtful and worthwhile investments in the Central Massachusetts community for many years to come," said Arthur J. Remillard III.
A total of $136,760 in grants of up to $20,000 each has been awarded for this year's projects:
Nutrition Education for Young Mothers Experiencing Housing Insecurity in Worcester proposed by medical students Lydia Brainard, Samantha Lee and Sophia Antonioli, and Erin Barlow, MD, assistant professor of obstetrics and gynecology: A nutrition curriculum for teen mothers experiencing housing instability will be developed to educate them about disordered eating and introduce them to community resources for food access. This project will be done in conjunction with the student-run Mentors for Young Mothers, which works with You Inc.'s Teen Parent Supported Living Program.
Co-Active Therapeutic Theatre Drama Therapy as an Adjunctive Treatment for Patients with Serious Mental Illness proposed by medical students Clara Cabot, Victor Agwu and Amy Cheung, PhD, and Xiaoduo Fan, MD, MPH, professor of psychiatry: Members of the UMass MIND Community Intervention Program will conduct co-active therapeutic theatre drama therapy to evaluate whether the model, proven effective for other behavioral health disorders, is effective for individuals with serious mental illness who do not respond to traditional therapies.
Helmet Safety Program proposed by Fernando Catalina, MD, PhD, assistant professor of pediatrics, and Beth Mazyck, MD, associate professor of family medicine & community health: This initiative to improve bike safety and prevent head injuries will promote the use of helmets through health education and will provide free helmets to economically disadvantaged children and teens in north Worcester County.
The Community Education and Mentoring Program: A Workshop-Based Peer Support Model for College Students with Mental Illness proposed by psychiatry resident Maite A. Cintron Pastrana, MD, medical student Cameron Fattahi and Xiaoduo Fan, MD, MPH, professor of psychiatry: This project of the UMass MIND Community Intervention Program will train a team of college student volunteers passionate about mental health advocacy, some with their own lived experiences with mental illness, to lead a series of educational workshops to aid fellow students with mental health challenges.
The Diversity, Equity and Inclusion in Surgery Initiative proposed by vascular surgery resident Emily Fan, MD: In partnership with UMass Chan and the Worcester Public Schools Worcester Pipeline Collaborative, this program aims to diversify the surgical workforce to reflect the diversity of the population by engaging local students, starting in high school, to expose them to surgical careers and provide mentorship and guidance.
Sun Protection proposed by medical student Christopher Fay: Funding will support and expand Fay's city-wide free sunscreen dispenser initiative. In addition to supporting more dispensers, funding will enable installation of sun protection sails at busy city parks and offer educational programming in partnership with Worcester youth organizations.
Addressing Food Insecurity in and Around Barre: One Farm at a Time proposed by Kristina Gracey, MD, assistant professor of family medicine & community health: In response to increased food insecurity in rural Central Massachusetts, medical student volunteers will develop a sustainable program that helps patients enroll in SNAP benefits and pick up locally grown farm produce at no cost at the Barre Family Health Center where they receive their primary care.
Creating a longitudinal case management program within the Worcester Free Care Collaborative proposed by MD/PhD student Hye In Sarah Lee, medical students Nikita Joshi and Madeline Schwartz, and James Ledwith, MD, assistant professor of family medicine & community health: The Worcester Free Care Collaborative, six free clinics providing free, essential health care services to those who are uninsured, underinsured or unable to find care elsewhere, will expand and improve its case management operations to be more comprehensive and ongoing and better connected to other social service organizations in Worcester.
Providing Thermometers for Newborn Families at the Family Health Center of Worcester proposed by Sara Casey, DO, assistant professor of family medicine & community health, family medicine & community health resident Katherine Price, MD, and medical students Joyce Tien and Sonal Sharda: This project will provide baby rectal thermometers for all families with newborns who receive care at the Family Health Center. It will also create and distribute informational cards and magnets, in languages most frequently spoken by patients, about infant fevers and how to measure temperature properly.
Food for Thought: A Nutrition Outreach Program for Individuals with Serious Mental Illness proposed by MD/PhD students Lauren T. Shumate and Hye ln Sarah Lee, medical students Kai-Lou Yue, Pooja Dutta and Marko Stojcevski, psychiatry resident Yumi Kovic, MD, and Xiaoduo Fan, MD, MPH, professor of psychiatry: Expanded offerings of a UMass MIND Community Intervention Program initiative will help patients with severe mental illness improve their diets by providing food, healthy recipe cards, and cooking equipment and supplies at community locations including the Genesis Club and local group homes, and piloting vegetable gardens at several locations.
Related stories on UMass Chan News:
Remillard Family Community Service Fund awards nine grants for UMass Chan collaborations
Worcester elementary students greeted with supply-filled backpacks from UMass Medical School
Student-led virtual wellness program provides companionship to older, hospitalized COVID patients
Remillard Family Community Service Fund awards eight grants to faculty and students