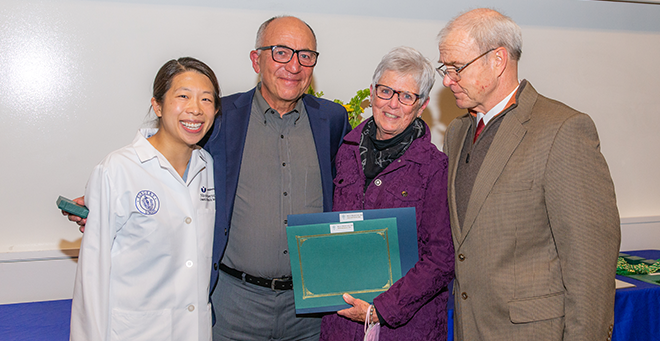 The Delta chapter of the Alpha Omega Alpha (AOA) Honor Medical Society welcomed 33 students from the T.H. Chan School of Medicine Class of 2023 during an induction ceremony on Tuesday, Oct. 4.
Terence R. Flotte, MD, the Celia and Isaac Haidak Professor, executive deputy chancellor, provost and dean of the T.H. Chan School of Medicine and the chapter's councilor, said the standard metric for induction into the society has evolved since he was inducted.
"Traditionally Alpha Omega Alpha based their decision primarily on academic achievement, grades and test scores. I have to admit that's how I was elected to AOA 37 years ago," Dean Flotte said. "In the time that's elapsed since then, I've been with many patients and parents. When things look bleak or scary or threatening to them, as they searched for someone worthy of their trust, never once did any of them ask, 'What were your test scores?'"
Anne Garrison, MD, assistant professor of obstetrics & gynecology and associate dean for student affairs, compared the process of adopting her daughter Sophia to the selection process. She quipped that you never know what you bring to the table that appeals to a committee.
"Prospective parents are viewed in a photo book, and you present all facets of your life, your family, your job and interests. I'm an OB-GYN by clinical training. I deliver babies. I made a whole page of me holding these newborns fresh out of the womb," Dr. Garrison said. "When we flew to Illinois to meet our daughter and her biological parents, I asked why they chose us and they said, 'We really liked your dogs.' You never know what's going to connect you to someone else."
Members are selected based on achievement, professionalism, humanism, equity and inclusion.
Student inductees were recognized for contributions such as their work on the Student Body Committee during the pandemic and serving as free clinic coordinators.
Four faculty and eleven house staff members (interns, residents and fellows) were also inducted. The parents of Bryce Bludevich, MD, accepted a posthumous award on their daughter's behalf.
Nicole B. Cherng, MD, assistant professor of surgery, a close friend and co-resident, spoke of Bludevich's kindness and devotion to improving surgical residency. Dr. Bludevich was diagnosed with melanoma her second year of residency. Dr. Cherng said the chemotherapy that followed failed to stop Bludevich from writing multiple peer-reviewed publications, creating a transitional residency curriculum for UMass Chan medical students, developing a residents-as-educators pathway for surgical residents interested in education and helping implement a virtual general surgery residency interview process when the pandemic hit.
"Bryce's contributions rival and even surpass those of someone who lived a very long life," Cherng said. "She was humanistic in its truest form. Bryce's light will never go out."
Bludevich's induction was met with a standing ovation.
The 2023 AOA inductees are:
Students
Maimuna Ahmad
Jamie Burns
Emily Chin
Haley Clark
Symren Dhaliwal
Chantal Ferguson
Sarah Ferreira
George Han
Megan Hansen
Sara Hyde
Ian Kelly
Eleni Kovatsis
Vivian Liu
Eve Manghis
Mary Marchese
Grace Masters
Claire Meyerovitz
Gabriella Paquette
Bryce Pepin
Victoria Powell
Caroline Repetti
Coleman Riordan
Clare Ryan
Olivia Sears
Holly Shillan
Noah Silverstein
Omar Sorour
Jennifer Spiegel
Nishwant Swami
Annie Thornton
Emily Vicks
Lauren Waldman
Vanya Zvonar
Faculty
Edwin Boudreaux, PhD
Tara Kumaraswami, MD
Katherine Callaghan, MD
Hugh Silk, MD
House staff
Bryce Bludevich, MD (posthumously)
Jared Quast, MD
Niti Shahi, MD
Vijaya Daniel, MD
Shirley Shue, MD
Alex Newbury, MD
Arslan Talat, MD
Isabella Plumptre, MD
Shaun Toomey, MD
Alexander Pong, MD
Samantha Willford, MD
Related UMass Chan News stories:
Alpha Omega Alpha Honor Medical Society at UMass Chan Medical School welcomes new members
Alpha Omega Alpha Honor Medical Society at UMMS inducts largest, most diverse class