UMass alumni Dan and Diane M. Casey Riccio, PhD, have pledged $15 million to UMass Chan Medical School to further expedite and support advances in neuroscience research. The gift includes $10 million for what will be named the Riccio ALS Accelerator Initiative and $5 million to expand and endow the Riccio Fund for Neuroscience, providing seed money for research collaborations.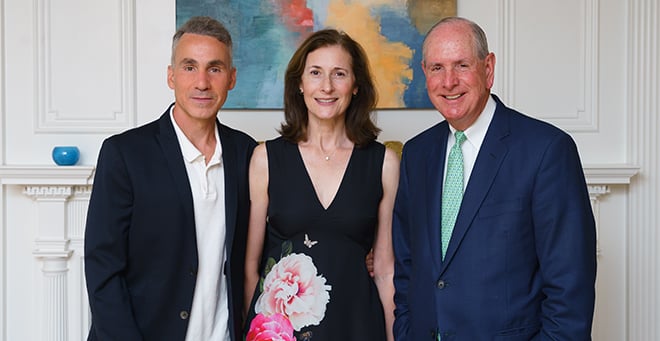 The philanthropic gift is the third and largest donation made to UMass Chan by the Riccios, the Medical School's most generous alumni supporters.
In 2013, the couple gave $1 million to the UMass ALS Cellucci Fund supporting amyotrophic lateral sclerosis (ALS) research at the Medical School. In 2017, they gave $1 million to establish the Dan and Diane Riccio Fund for Neuroscience and an additional $1 million to support the UMass ALS Cellucci Fund.
"Dan and Diane Riccio truly understand the impact of philanthropy on advancing research that will improve the quality of life for people with neurodegenerative diseases," said Chancellor Michael F. Collins. "Their generosity is unparalleled and, as an institution, we feel privileged to be the beneficiaries of their incredible and inspiring support."
Building on the ALS research led by Robert H. Brown Jr., DPhil, MD, the Leo P. and Theresa M. LaChance Chair in Medical Research and professor of neurology, and his colleagues, the Riccio ALS Accelerator Initiative will take aim at a range of ALS mutations by targeting an estimated 10 to 15 lead genes with the goal of developing novel therapeutic approaches.
The Accelerator Initiative brings together basic and translational expertise in molecular biology, genetics, neurology, drug design and manufacturing, regulatory affairs, and clinical care under one dynamic umbrella.
"This extraordinary gift from the Riccios is transformational," said Dr. Brown. "It will greatly enhance the development of ALS therapies here at UMass Chan Medical School. With members of the RNA Therapeutics Institute, our team in neurology is developing new biologic treatments for ALS, targeting aspects of ALS gene expression. This generous new funding will accelerate preclinical studies, facilitate the regulatory processes and get these treatments to patients much more rapidly. We are humbled by this gift, and profoundly grateful."
The $5 million gift to endow the Riccio Fund for Neuroscience will generate a pool of funds in perpetuity that will be made available to disperse in the form of grants to research faculty, thereby ensuring that neuroscience research collaborations will be a priority for years to come.
Over the past four years, 16 interdisciplinary research collaborations have received seed funding from the Riccios' previous gift and helped launch innovative research pursuits in the neurosciences. Projects have ranged from those that are basic science in nature, trying to answer fundamental questions around brain function, to those that are focused on a particular disease.
"The great value of the Riccio Fund for Neuroscience has been to bring together scientists from different disciplines to broaden the fundamental understanding of disorders such as ALS, multiple sclerosis and autism spectrum disorder, and in so doing to pave the way for new therapies," said Terence R. Flotte, MD, the Celia and Isaac Haidak Professor, executive deputy chancellor, provost and dean of the T. H. Chan School of Medicine. "The success of this fund suggests that greater resources can lead to even greater scientific achievement in this strategically important area of investigation."
"We have great confidence in Chancellor Collins and the leadership of the Medical School and are pleased to provide this research support to further the advances and treatments for ALS and other neurodegenerative diseases," said Dan Riccio.
Diane Riccio added, "UMass Chan researchers have made exciting progress and we hope this support brings us closer to new therapies. Recent advances using innovative gene therapies in diseases such as ALS, Tay-Sachs and others give families and researchers hope that we're on the verge of potential breakthroughs."
Dan and Diane Riccio were presented with honorary degrees at the Medical School's 48th commencement, in June 2021. Chancellor Collins cited the couple's shared appreciation for and connection to the University of Massachusetts as shaping their portfolio of philanthropy.
"All of us at UMass are deeply grateful to alumni Dan and Diane Ricco for their remarkable generosity and commitment to the UMass Chan Medical School's mission," UMass President Marty Meehan said. "The impact of this gift, as well as their many gifts in past years, will benefit UMass Chan and those it serves for generations. This philanthropic support is compelling evidence of the momentum that the medical school has been building."
Dan Riccio assumed the role of vice president of engineering at Apple, Inc. last year, after nearly a quarter century in senior leadership positions including overseeing the product design and hardware engineering teams. As an innovator, he has been a leader in designing, developing and engineering almost all of Apple's products. He earned an undergraduate degree in mechanical engineering in 1986 from UMass Amherst and is a longtime trustee of the Brooks School in North Andover.
Diane (Casey) Riccio, studied cell motility, working in the lab of George B. Witman, PhD, professor emeritus of radiology, and earned her doctorate from the Graduate School of Biomedical Sciences in 2003. She currently works to raise awareness of and funds for dementia care, support and research with the Alzheimer's Association of Northern California and Northern Nevada, where she is on the board of directors.
The Riccios live in Atherton, California, and Marblehead, Massachusetts.
Related UMass Chan news stories:
Four interdisciplinary collaborations share mission to demystify devastating brain disorders
Commencement events celebrate accomplishments of Class of 2021 at UMass Medical School
UMass Medical School to award four honorary degrees at 48th Commencement
Riccio Fund for Neuroscience announces four research awards at UMMS