Commencement events celebrate accomplishments of Class of 2021 at UMass Medical School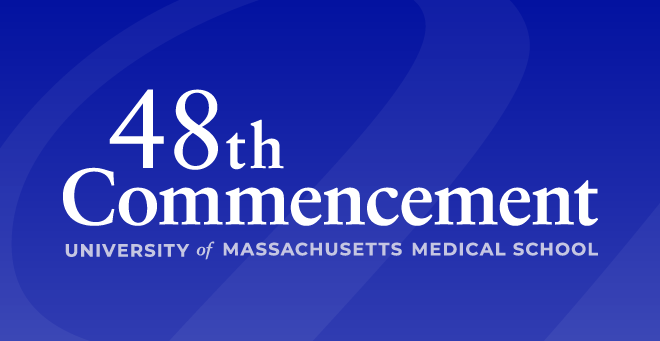 UMass Medical School will celebrate students across its three schools with a trio of award ceremonies on June 3 and 4, leading up to the 48th Commencement Exercises on June 6. The events will be held for a limited audience in-person, and broadcast virtually for all to follow along from home.
On Thursday, June 3, the Graduate School of Biomedical Sciences will host the 12th annual GSBS Student Academic Achievement Awards ceremony at 2 p.m. in the Albert Sherman Center Auditorium. This special event recognizes student achievements across all years. The event will be broadcast on Zoom at the link here.
Also on Thursday, the Graduate School of Nursing will host a Graduate Reception at 4 p.m. at the Albert Sherman Center auditorium. Click here to watch the event on Zoom.
On Friday, June 4, the School of Medicine Alumni Association will host its annual breakfast at 9 a.m. in the Albert Sherman Center first-floor multipurpose room. Outstanding medical educator awards will be presented, and the members of the Class of 2021 will be welcomed as alumni. The event will be broadcast here on Zoom.
Commencement will be held on Sunday, June 6, on Coughlin Field at Worcester State University, due to construction activities impacting the Medical School campus green. More than 250 students from the School of Medicine, the Graduate School of Nursing and the Graduate School of Biomedical Sciences are expected to receive degrees.
Honorary degrees will be awarded to Dan Riccio and Diane M. Casey Riccio, PhD, both highly accomplished graduates of the University of Massachusetts and committed supporters of biomedical research at the Medical School; Henry M. Thomas, III, JD, president and CEO of the Urban League of Springfield and former chair of the University of Massachusetts Board of Trustees; and Michael P. Angelini, Esq., a civic leader in Central Massachusetts who serves as chairman of the Worcester-based law firm Bowditch.
Seating on the field will be available at 10 a.m.; the processional will begin promptly at 11:45 a.m. (unless inclement weather necessitates an earlier or later start time). The ceremony is expected to last approximately two hours and will be held rain or shine. It will be broadcast on Facebook and YouTube.