Page Menu
Bryan McGuirk, MD- Blackstone House Mentor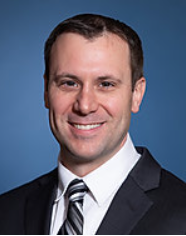 Dr. Bryan McGuirk grew up in a small town here in Worcester County where he attended Holy Name Central Catholic High School. He then went off to Fairfield University in Connecticut, where he received an undergraduate degree in Political Science. After graduating college, he took a year off from school, where he worked as a PCA in the old emergency department at University Campus, UMass Memorial Hospital. Bryan then moved to Dublin, Ireland where he attended Trinity College Medical School, graduating in 2010. After completing medical school, he stayed in Ireland completing an intern year before returning to the US in 2011.
Bryan then spent 1 year working for the TIMI Study Group at Brigham and Women's Hospital prior to starting his internal medicine residency at Steward Carney Hospital in Dorchester, MA. During his PGY-3 year of residency, he was also an Acting Chief Medical Resident, prior to graduating in 2015. He then went on to become an attending primary care physician as part of the Steward medical group, in addition to taking on the role of Assistant Program director for the Internal Medicine residency program at Steward Carney Hospital. During his time there, he would intermittently work as a teaching hospitalist managing acute care medicine patients while also teaching the internal medicine residency program on the wards and precepting residents in his continuity clinic. Bryan then became the Program Director for the Transitional Year Program at Steward Carney Hospital, prior to moving back to Worcester County in 2019.

At that time, Bryan took a job with UMass Memorial Community Medical Group and moved his primary care practice to Northborough Crossing, where he continues to see his patients to this day. He currently works as a full-time primary care provider with a large patient panel in a very busy practice. His current teaching roles include precepting IM residents as part of their continuity clinic for the entirety of their 3-year residency program, working as a small group facilitator teaching 2nd-year medical students in their organ systems disease course, and precepting 3rd-year medical students in his clinic during their ambulatory block rotations.

Bryan currently lives in Millbury with his wife, daughter, son, and their rescue dog. In his free time, he enjoys golfing and watching sports.