Page Menu
Hyundai Hope on Wheels campaign continues support of pediatric cancer research at UMass Medical School
Cancer biologist pursuing targeted treatments for childhood leukemia received $250,000 grant in September 2015
UMass Medical School cancer biologist Lucio Castilla, PhD, accepted a $250,000 grant from the Hyundai Motor America Hope on Wheels campaign for his research into targeted therapies for pediatric blood cancers. The award was presented at a ceremony held at UMass Medical School on Sept. 25, 2015.
This grant was part of $10.5 million that Hyundai Motor America awarded to 45 pediatric cancer research projects throughout September 2015 in honor of National Childhood Cancer Awareness Month. Previous UMMS recipients of Hyundai Hope on Wheels grants, include Peter Newburger, MD, the Ali and John Pierce Chair in Pediatric Hematology/Oncology and professor of pediatrics, molecular, cell & cancer biology and microbiology & physiological systems; Michelle Kelliher, PhD, professor of molecular, cell & cancer biology and microbiology & physiological systems; and Jack Leonard, PhD, professor of microbiology & physiological systems and anesthesiology.
"We are proud to be supporting the greatest minds in cancer research," said Dave Zuchowski, then-president of Hyundai Motor America.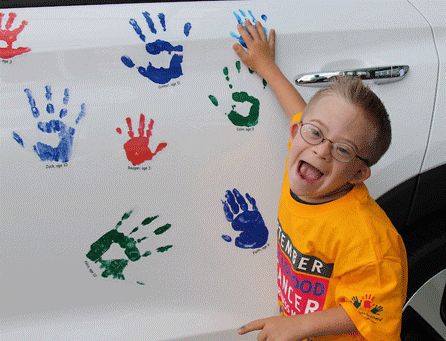 "We very much appreciate this support, which is helping us translate basic concepts to clinical concepts that can be applied to patients," said Dr. Castilla, associate professor of molecular, cell & cancer biology. "We are focused on how to transfer drug molecules directly and specifically into cancer cells without affecting normal cells."
The event also celebrated guest of honor Liam Fitzgerald, a now 10-year-old leukemia survivor, who was treated at UMass Memorial Medical Center. Fitzgerald added his blue poster-paint handprint to the official Hyundai Hope on Wheels car parked outside of the Aaron Lazare Research Building.
---
Photos
Top: Lucio Castilla, PhD, (third from left) accepts the Hyundai Hope on Wheels grant from former Hyundai Motor America President Dave Zuchowski and Worcester region Hyundai dealers with UMMS Chair of Pediatrics Mary Lee, MD (far left), and UMass Medical School Cancer Center Director Michael Green, MD, PhD, the Lambi and Sarah Adams Chair in Genetic Research (far right).
Right: Former leukemia patient Liam Fitzgerald adds his handprint to the childhood cancer survivors signature car at the 2015 Hyundai Hope on Wheels ceremony.