Page Menu
Five Boston Marathon runners will support UMass ALS Cellucci Fund
For each one, it's personal
March 2017
On April 17, 2017—and for the sixth consecutive year—volunteer runners will participate in the one-and-only Boston Marathon to raise money for the UMass ALS Cellucci Fund.
Each person on this year's Cellucci Fund team has been touched by ALS and is committed to raising awareness of—and funds for—breakthrough ALS research underway at UMass Medical School.
"Anybody living with ALS, or seeing the disease firsthand knows the impact that it has for everyone involved," said Jamie Miller, of Hudson, who will run in honor of her brother, Terry Nash, who has ALS. "My hope is to continue raising awareness, and make this disease something that is treatable. I'm truly grateful to be a part of the UMass ALS Cellucci Team, and will continue to do what I can to help."
Craig Adams, son-in-law of former Massachusetts Gov. Paul Cellucci, who founded the UMass ALS Cellucci Fund, will continue his family's legacy by taking part in the marathon. Adams, for whom the 2017 marathon will be his first, said it is only fitting to be part of a team raising money in the governor's memory focused on ALS, the disease that took his life.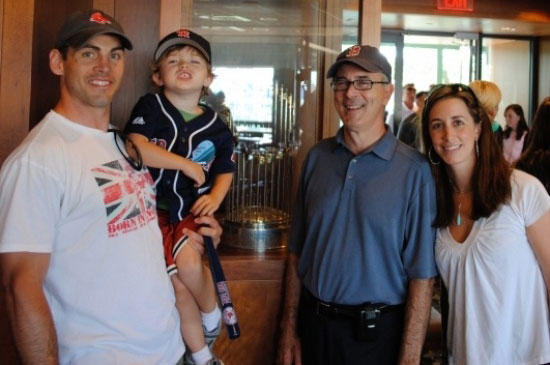 "Unfortunately, as you get older, inevitably you get touched by something—ALS, cancer or something else—and you start to realize why people become committed to support a cause and go out of their way to help. There are many great causes and this, the UMass ALS Cellucci Fund, is that to our family and probably always will be," said Adams, who is married to Anne Cellucci Adams (shown here).
Adams and Miller said the cause, the spirit of the race and the familial connections will help carry them to the finish line.
"After being gone from the area for a while, my wife and I and our family were reminded of how much the marathon is part of the culture of the city," said Adams, who retired from professional hockey last year after a 14-year career, most recently with the Pittsburgh Penguins. "I started to think about running and knowing that it is a big part of the Cellucci Fund efforts, it seemed like a perfect fit."
For Miller, the experience of running the 2016 marathon with the Cellucci Fund team was an honor she is happy to be part of again.
"Running in support of my brother, Terry, last year was undoubtedly a life changing experience. Seeing him cheer me on in Framingham was a moment that made all of the training and fundraising worthwhile," Miller said.
Kerri Floramo, of Malden (shown in top photo), and Miller are returning members of the Cellucci Team. Two other new runners will complete the group: Sarah Nocco, a medical student from Boston University whose father died from ALS, and Christine Hetzel, of Melbourne, Fla, whose mother died from the disease.
The Cellucci Fund marathon teams have collectively raised more than $270,000. The Cellucci Fund has generated nearly $4 million since it was established in 2011 in honor of the former governor, who died from complications of ALS in 2013. The money raised goes to fund ALS breakthroughs happening across UMMS and in the laboratory of Dr. Brown, the Leo P. and Theresa M. LaChance Chair in Medical Research, chair and professor of neurology, Gov. Cellucci's personal physician and one of the world's leading ALS researchers.
YOU can make a difference in the fight against ALS.
PLEASE SUPPORT the UMass ALS Cellucci Fund team in the Boston Marathon.
Top photo: Returning UMass ALS Cellucci Fund team member Kerri Floramo (left) at the 2016 Boston Marathon.
Bottom photo: Craig Adams (left) stands with Gov. Paul Cellucci, Anne Cellucci Adams and their son, Rhys.