Page Menu
Hudson Hoagland Society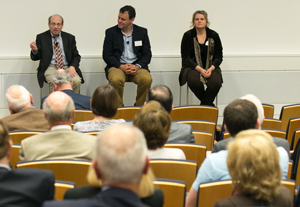 The Hudson Hoagland Society (HHS) is the leadership giving group of individuals who support biomedical research at the University of Massachusetts Medical School with cumulative gifts of $500 or more to our Annual Research Fund within a fiscal year (July to June). At the 32nd Annual Meeting on May 24, 2017, members paid tribute to the group's distinguished research history and heard about the exciting progress being made toward treatments for neurodegenerative diseases such as Huntington's disease. Read more.
Photo: Neil Aronin, MD; Miguel Sena-Esteves, PhD; and Anastasia Khvorova, PhD, during the panel discussion "Neurodegenerative Diseases: Crossing the Barrier to Cures," at the 2017 HHS annual meeting.
Hudson Hoagland Society Membership Levels:
Founder $10,000 or more
Partner $5,000 to $9,999
Patron $2,500 to $4,999
Benefactor $1,000 to $2,499
Friend $500 to $999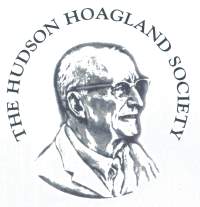 The Hudson Hoagland Society was originally founded in 1985 to recognize major annual contributors to the Worcester Foundation for Biomedical Research. Named in honor of the Worcester Foundation's co-founder, the Society brings together individuals who share a commitment to advancing biomedical research. Founded in 1985 as an independent research institute by Drs. Hudson Hoagland and Gregory Pincus, the Worcester Foundation merged with the University of Massachusetts Medical School in 1997. Since the time of the merger with the Worcester Foundation, and in affiliation with the Hudson Hoagland Society, more than $5 million in innovation grants of up to $40,000 have been awarded to nearly 170 researchers at the UMass Medical School.
Funds raised through the Hudson Hoagland Society are now used to support the most promising and innovative research at the University of Massachusetts Medical School. These "seed" grants are awarded based on a competitive review process and allow a researcher to pursue new, innovative research for which he or she may not yet have funding. To learn more about grant recipients who have recently benefited from these funds, click here.
Philanthropy is as important to medical discovery as are the countless hours researchers spend in their labs. You can play a role in advancing toward a world free of disease.
Please consider annual enrollment to the Hudson Hoagland Society. You can make your gift conveniently through our secure online web page, you can mail your check, payable to UMMF, to the Office of Advancement or contact us at 508-856-1994.