Page Menu
Educational Partner and Affiliated Hospitals
UMass Memorial Medical Center
UMass Memorial Medical Center's role in the education of medical students is to train the next generation of primary care physicians for the Commonwealth and provide continuing education to primary care physicians and specialists in the region. As the advanced tertiary care referral center for central and western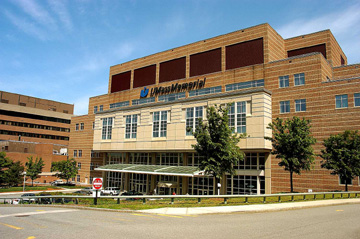 Massachusetts, UMass Memorial Medical Center is a 761-licensed bed facility on three campuses, University, Memorial and Hahnemann. The Medical Center offers a full complement of sophisticated technology and support services, providing the region with specialists renowned for their work in areas such as cancer, cardiology, emergency medicine, women's health, and children's medical services – including an internationally recognized newborn intensive care unit. It also operates a 26-bed mental health unit at Worcester State Hospital. UMass Memorial Medical Center is accredited by the American College of Surgeons as the region's only designated Level I trauma center, and the University Campus is home to Life Flight, New England's first hospital-based air ambulance. The Memorial Campus houses the region's only Level III Obstetrical and Newborn Intensive Care Unit.
The University Campus has 416 licensed acute-care beds, including 26 psychiatric beds at Worcester State Hospital, and serves as a tertiary-care referral center. The campus' main areas of focus are on plastic surgery, bone diseases, neurology, advanced cardiovascular care, dermatology, radiation therapy and other forms of cancer care, with a full complement of sophisticated technology and support services. The campus also includes a comprehensive Children's Medical Center, with specialists in all principal fields, including orthopedics, psychiatry and surgery, and the only pediatric intensive care unit and pediatric AIDS treatment facility in Central Massachusetts.
The Memorial Campus (pictured above right) is a leading provider of acute-care services in the greater Worcester area and offers a broad array of primary, secondary and tertiary care services. An acute care facility with 345 licensed beds, it is known for its outstanding patient care and excellence in teaching. It is the regional referral center for women with high-risk pregnancies, the regional Level III neonatal intensive care center for seriously ill newborns in Central Massachusetts, and a leading center for the care and treatment of cancer patients. It is also the site of the New England Hemophilia Center.
The Hahnemann Campus contains physicians' offices, laboratory and X-ray facilities and a renal dialysis center, as well as the Hahnemann Family Health Center. A state-of-the-art ambulatory surgery and specialty care practice center is located at the campus. The campus is a patient-centered, full-service outpatient surgery center focusing on dermatology, hand and upper extremity surgery and therapy, ophthalmology and cosmetic surgery.
In addition to UMass Memorial Medical Center, UMMS has major teaching affiliations with Saint Vincent Hospital at Worcester Medical Center, Berkshire Medical Centerin Pittsfield, Milford-Whitinsville Regional Hospital and St. Elizabeth's Hospitalin Boston.
All Educational Partners and Affiliates
Clinical partner—UMass Memorial Health Care
UMass Memorial Medical Center

(Hahnemann, Memorial and University campuses)

UMass Memorial—Clinton Hospital
UMass Memorial—HealthAlliance Hospitals
UMass Memorial—Marlborough Hospital
UMass Memorial—Wing Memorial Hospital and Medical Centers
Major Educational Affiliates
Additional Educational Affiliates
South County Pediatrics
Westboro State Hospital
Worcester State Hospital