Page Menu
Message from the Chief Residents
Welcome to the UMass Chan Medical School's Pediatric Residency Program at UMass Memorial Children's Medical Center! Thank you for taking the time to learn about our residency program. We are very excited to stay on for a fourth and fifth year in this program and to share with you what makes UMass Memorial Children's Medical Center an amazing training program.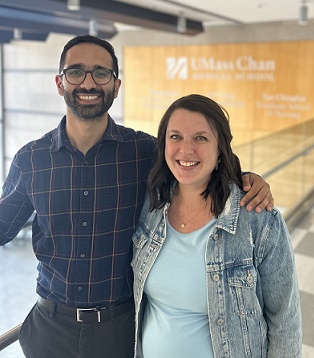 The Children's Medical Center is embedded within a large, tertiary academic center, and includes the region's only Level 1 Pediatric Trauma Center, Level III NICU, and Pediatric ICU. We serve central Massachusetts, Southern New Hampshire, Northern Connecticut and Northern Rhode Island. The catchment area is both socioeconomically and ethnically diverse, leading to an enriching training experience. Being the only Children's Medical Center in the region, you will see both "bread and butter" pediatrics, as well as "zebras". Our program creates a well-rounded educational environment to help our residents succeed whether they choose general pediatrics or a subspecialty.
We are located in Worcester, Massachusetts, the second largest city in New England. For city people, Worcester is growing rapidly with amenities like a great food scene (with many international options), world-class theater and museums, and the Woo Sox, a really fun minor league baseball team that we love cheering on. For those who enjoy outdoor time, we are a close drive to the best hiking and snowboarding/skiing that New England has to offer. All of this coupled with accessible housing and parking options makes Worcester very livable. It is a great city for our residents to spend time with each other outside of work.
Our pediatrics program includes 8 categorical residents per class, complemented with 4 trainees in internal medicine/pediatrics per class. Our size promotes the close relationships within residents and among faculty, mentors, and coordinators, which we pride ourselves on. The program also allows residents to individualize their curriculum and schedules. There are currently four pediatric fellowship programs at UMass (NICU, Pediatric Emergency Medicine, Child Health Equity (PATH), and Global Health). On services without fellows, our residents take on high levels of responsibility and autonomy as the leaders of the medical team. We work closely with subspecialists including radiology, pediatric surgery, and tens of other subspecialty teams who are all engaged in providing the best educational experience and patient care possible. We are proud of our multidisciplinary approach to patient care and foster a welcoming environment with a team-based approach.
We prioritize resident education. Our robust learning curriculum includes weekly interprofessional simulation, daily morning conferences, and monthly afternoon protected time for hands-on learning. Advocacy, QI/research, and narrative medicine are all woven into our curriculum. Our program also offers a teaching elective and many individualized electives to cater to resident career goals. Graduates from our program are well prepared for any career in pediatrics. They are readily recruited into primary care practices, to become hospitalists, or to complete their specialist training at top fellowship programs across the country.
We are so excited that you have made the decision to enter Pediatrics! Please don't hesitate to reach out with any questions that you have.
Sincerely,
Sanjay Chainani, sanjay.chainani@umassmemorial.org
Alison Casserly, alison.casserly@umassmemorial.org