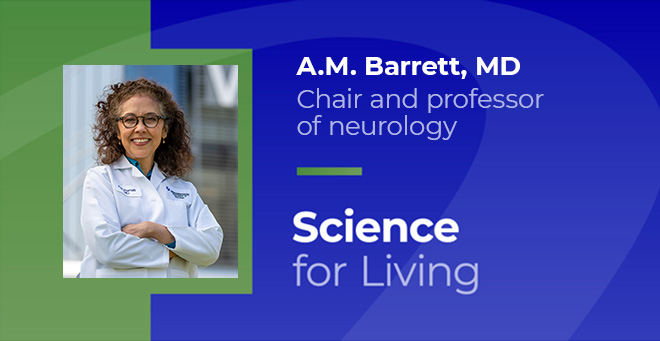 Military veterans face a higher risk of amyotrophic lateral sclerosis than the civilian population, according to years of studies. UMass Chan Medical School researchers are pursuing therapies to address the biological basis for this fatal neurodegenerative disease and work with clinical partners to provide expert rehabilitation for veterans, including those who seek care at the VA Central Western Massachusetts Healthcare System's community-based outpatient clinic on the Medical School's campus.

UMass Chan scientists explained what is known about the connection between military service and ALS and what direction efforts to curb the disease are taking.

"There are a number of adverse experiences people can have in the military, whether it's exposure to toxins, an injury or other exposure to trauma that results in brain changes and may also predispose people to a number of different conditions," said A.M. Barrett, MD, chair and professor of neurology. Dr. Barrett is also chief of the neurology service at the VA Central Western Massachusetts Healthcare System.

One in six people who die of ALS is a veteran, according to a news release from the advocacy groups, I am ALS and Veterans with ALS. Among post-9/11 veterans, the risk of ALS is nearly four times higher than in the civilian population, a 2019 study in the journal Military Medicine reported.

"The VA has permitted those veterans who have ALS and served at least 30 days to be considered as having a 100 percent service-connected disability," said Barrett.

Barrett said the rehabilitation research arm of the VA is supporting work locally so people who are diagnosed with ALS and receiving care at the VA Outpatient Clinic on the UMass Chan campus or at the nearby Plantation Street site can also receive expert rehabilitation, either through the VA or through inpatient or outpatient community partners.

Across campus, studies in the laboratory of Nils Henninger, MD, PhD, associate professor of neurology and psychiatry, are providing insights into mechanisms whereby repeated head trauma can increase the risk of ALS.

Approaches to treating ALS are also being investigated. Robert H. Brown Jr., DPhil, MD, the Donna M. and Robert J. Manning Chair in Neurosciences and professor of neurology; and Jonathan Watts, PhD, professor of RNA therapeutics, published results in 2021 of a pilot study showing that antisense oligonucleotides safely suppress mutant forms of an ALS gene. "The next step is to launch a multiperson clinical trial to see if this treatment can slow progression of the disease," Dr. Brown said.

A Phase II study Brown published in 2019 in the journal Neurology showed that a single transplantation of bone-marrow derived stem cells, called NurOwn, was safe and improved spinal fluid profiles of ALS biomarkers. However, a Phase III study of NurOwn, which was developed by BrainStorm Cell Therapeutics, Inc., failed to meet efficacy endpoints.
In September a public advisory committee of the U.S. Food and Drug Administration voted against approving NurOwn as an ALS therapy. The FDA is expected to issue a decision on the therapy in early December.
Research into therapies to curb ALS is proceeding at UMass Chan with support from the UMass ALS Cellucci Fund, UMass alumni Dan and Diane Riccio, who have made significant gifts to the Riccio ALS Accelerator Initiative and the Cellucci Fund; and endowed the Riccio Fund for Neuroscience. Support is also received from the Jake Kennedy ALS Fund at UMass Chan Medical School; the Angel Fund for ALS Research and the National Institutes of Health, among others.
Science for Living features the perspectives of UMass Chan Medical School experts on the research behind health news headlines. If you have ideas for topics you'd like to see explored, please send them to susan.spencer1@umassmed.edu.