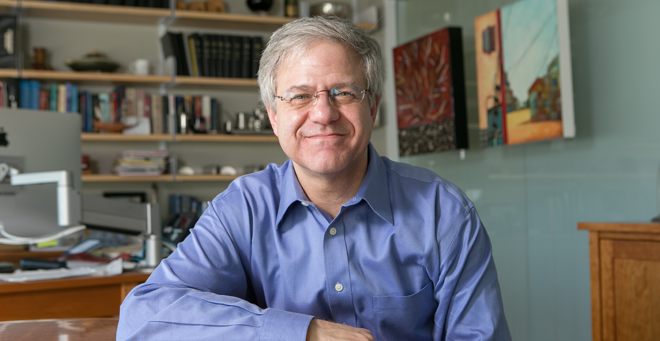 Phillip D. Zamore, PhD, Howard Hughes Medical Institute Investigator, the Gretchen Stone Cook Chair in Biomedical Sciences, and chair and professor of RNA therapeutics, has been elected to the National Academy of Sciences.
Dr. Zamore is one of 120 newly elected members recognized for distinguished achievements in original research. National Academy of Sciences membership is a widely accepted mark of excellence in science and is considered one of the highest honors a scientist can receive.
Zamore is credited with identifying the biochemical machinery responsible for RNA silencing, the mechanism through which small pieces of genetic material can turn specific genes on or off. His lab studies model and non-model bacteria, insects, and mammals to understand the fundamental biology of RNA and to develop novel therapies for human diseases, including Huntington's disease.
Zamore joined UMass Chan in 1999 and was awarded the Chancellor's Medal for Excellence in Scholarship at UMass Chan in 2015. He is a fellow of the National Academy of Inventors and was recently elected as a member of the American Academy of Arts & Sciences.
The National Academy of Sciences was established by an act of Congress signed by President Abraham Lincoln in 1863. Together with the National Academy of Engineering and the National Academy of Medicine, it provides science, engineering and health policy advice to the federal government and other organizations. The institution now has 2,565 active members and 526 international members.
Zamore joins seven UMass Chan colleagues who are also elected members of the academy.