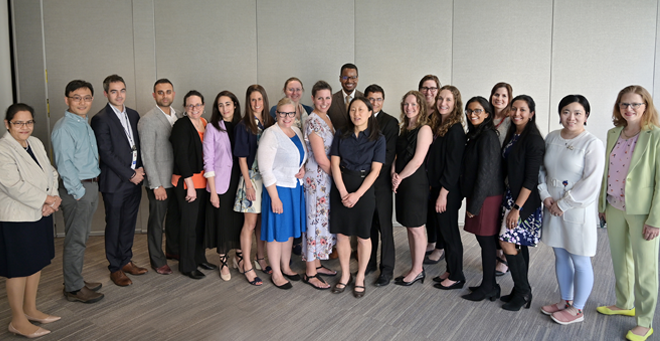 Twenty-five UMass Chan Medical School faculty members graduated from the Junior Faculty Development Program in a ceremony held on Thursday, May 18.
The Junior Faculty Development Program, the longest-running professional development program at UMass Chan, features functional mentoring at its core, and matches mentees to mentors in programs outside their own.
Luanne E. Thorndyke, MD, professor of medicine, and Robert Milner, PhD, professor of neurology, brought the program to UMass Chan from Penn State College of Medicine in 2010. Dr. Thorndyke delivered the keynote address at the graduation ceremony.
"Say yes to opportunities that will challenge you to learn and grow, especially when you are junior in your careers," said Thorndyke, sharing stories of her own transition to academic medicine and reflecting on her time as vice provost for faculty affairs at UMass Chan. "Continue to invest in your leadership, your professional development. Keep thinking about what's next. What more do I need to learn? Keep building your skills so that you will be ready when the next opportunity comes."
Two 2012 graduates of the program, Mary Ahn, MD, professor of psychiatry and pediatrics and vice provost for faculty affairs, and Susanne Muehlschlegel, MD, MPH, professor of neurology, also delivered remarks. Dr. Muehlschlegel, who is completing her term as co-director, provided a history of the program, noting some of the changes prompted by the COVID-19 pandemic have stayed, such as a hybrid component.
Muehlschlegel said that 266 junior faculty members representing nearly every academic department have participated in the program since 2010. Data shows that faculty members who have gone through the program were promoted at more than twice the rate of nonparticipants and were retained at much higher rates. The event concluded with Pranoti Mandrekar, PhD, professor of medicine and co-director of the Junior Faculty Development Program, presenting graduates with their certificates.
2023 Junior Faculty Development Program graduates
Demetri Adrahtas, MD, assistant professor of anesthesiology & perioperative medicine
(mentor: Ricardo Poza, MEd, instructor in nursing)
Elizabeth Allocco, MD, assistant professor of obstetrics & gynecology
(mentor: Jessica Simons, MD, MPH, professor of surgery)
Maushumi Assad, MD, MPH, assistant professor of pediatrics
(mentor: Kathleen Mazor, EdD, professor of medicine and associate director of the Meyers Health Care Institute)
Lisa Bocelli, DO, assistant professor of medicine
(mentor: Jennifer Carey, MD, associate professor of emergency medicine)
Madhuri Chandnani, MD, assistant professor of medicine
(mentor: Patricia Seymour, MD'07, associate professor of family medicine & community health and assistant dean of clinical curriculum in the Office of Undergraduate Medical Education)
Suliman El-Amin, MD, assistant professor of psychiatry
(mentor: Celine Larkin, PhD, assistant professor of emergency medicine)
Nura El-Haj, MD, assistant professor of pediatrics
(mentor: Erin Barlow, MD, assistant professor of obstetrics & gynecology)
Lauren Feld, MD, assistant professor of medicine
(mentor: Sybil Crawford, PhD, professor of medicine)
Lauren Ferrara, MD, assistant professor of radiology
(mentor: J. Aaron Scott, DO, assistant professor of anesthesiology & perioperative medicine)
Minjin Fromm, MD, assistant professor of orthopedics & physical rehabilitation
(mentor: Shao-Hsien Liu, PhD, assistant professor of population & quantitative health sciences)
Danielle Hebert, DNP, MBA, MSN'07, ANP-BC, assistant professor of nursing and coordinator of adult-gerontology primary care nurse practitioner track
(mentor: Manas Das, MD, associate professor of radiology and assistant dean for foundational curriculum in the Office of Undergraduate Medical Education)
Rose Kronziah-Seme, PhD, MSN, RN, CHSE, assistant professor of nursing
(mentor: Maksim Zayaruzny, MD, associate professor of anesthesiology & perioperative medicine)
Feifan Liu, PhD, assistant professor of population & quantitative health sciences and radiology
(mentor: Arvin Garg, MD, MPH, professor of pediatrics)
Cassandra Mackey, MD, assistant professor of emergency medicine
(mentor: Yasmin Carter, PhD, associate professor of radiology)
Oluwaseyi Oni, MBChB, MPH, assistant professor of pediatrics at UMass Chan-Baystate
(mentor: Austin Lee, PhD, assistant professor of population & quantitative health sciences)
Krunal Patel, MD, assistant professor of medicine
(mentor: Karim Alavi, MD, associate professor of surgery)
Prakash Paudel, MD, assistant professor of medicine
(mentor: Matthew Alcusky, PhD, PharmD, MS, assistant professor of population & quantitative health sciences)
Abita Raj, MD, assistant professor of psychiatry
(mentor: James Ledwith, MD, assistant professor of family medicine & community health)
Abbas Rupawala, MD, assistant professor of medicine
(mentor: Andres Schanzer, MD, the Cutler Chair in Vascular and Endovascular Surgery, professor of surgery and population & quantitative health sciences and chief of the Division of Vascular and Endovascular Surgery in the Department of Surgery)
Jessica Salerni, DO, MEd, assistant professor of family medicine & community health
(mentor: Gordon Manning, MD, assistant professor of medicine)
Lorissa Smulan, PhD, assistant professor of medicine
(mentor: Cole M. Haynes, PhD, professor of molecular, cell & cancer biology)
Chrystina Soloperto, PhD, RN, CPNP-PC, assistant professor of nursing
(mentor: Kimberly Fisher, MD, associate professor of medicine)
Ina St. Onge, DO, FAAP, assistant professor of pediatrics
(mentor: Carolynn DeBenedectis MD, associate professor of radiology)
Kaitlyn Elizabeth Ellis Wong, MD, MPH, PhD, assistant professor of surgery
(mentor: J. Matthias Walz, MD, chair and professor of anesthesiology & perioperative medicine)
Tianle Zou, MD, MS, assistant professor of pathology
(mentor: Anthony Nunes, PhD, assistant professor of population & quantitative health sciences)