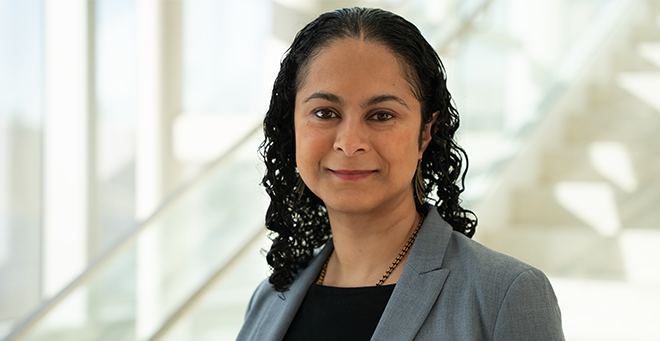 Athma A. Pai, PhD, assistant professor of RNA therapeutics, was awarded a nearly $1 million CAREER grant from the National Science Foundation (NSF) to use new high-throughput genomics approaches to study the regulation of mRNA splicing.
The Faculty Early Career Development (CAREER) Program is a foundation-wide activity that offers the NSF's most prestigious awards in support of early-career faculty who have the potential to serve as academic role models in research and education and to lead advances in the mission of their department or organization, according to the NSF.
"Splicing is at the heart of making different versions of RNA molecules from the same gene," explained Dr. Pai. "The central dogma of molecular biology involves the synthesis of RNA from the genes defined in DNA molecules. Some of these RNA molecules then act as messengers that shuttle instructional blueprints to enable proper cellular function. The informational content encoded by RNA is amplified by the process of splicing."
For many years, splicing was thought to be a foolproof, efficient process. "But increasingly, with high through-put genomics technologies and novel methods, we realized that there can be a lot of mistakes in the process of splicing an RNA molecule," Pai said. "The work proposed in this grant aims to use new experimental and computational methods to uncover when and why mistakes occur and use that information to refine our understanding of splicing processes in general."
She said, "Ultimately, our hypothesis is that you can fine-tune the levels at which these mistakes are happening, depending on the context of the cells."
The NSF CAREER grant also focuses on disseminating knowledge to a broader audience. "My research group uses genomics and computational tools to understand molecular biology and fundamental mechanistic processes," said Pai. "Thus, we're aiming to help bring more knowledge of these computational biology skills to both secondary and undergraduate education."
Pai said her lab will recruit college students from the Worcester area as summer interns conducting computational biology research. They will use their burgeoning computational biology skills to create a new module for the interactive ScienceLIVE (Learning with Interactive Virtual Education) program, co-founded by Pai, that will be presented by UMass Chan faculty and graduate students to Worcester middle school students.
The Worcester Public Schools science teachers involved in ScienceLIVE found they wanted more information about the cutting-edge research going on at UMass Chan, so the CAREER grant will also support creation of a small program to embed local teachers in a UMass Chan lab.
"We're eager to increase our knowledge about fundamental biological processes in cells through this research," said Pai. "Understanding the molecular logic behind how genes are regulated can result in unexpected and exciting discoveries that may result in new ways to improve human health."