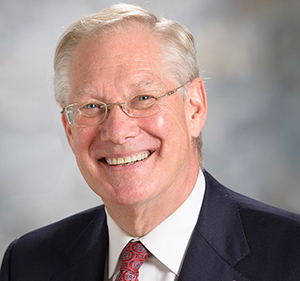 Breast cancer research pioneer V. Craig Jordan, PhD, will give the inaugural lecture in a series on cancer drug discovery at UMass Chan Medical School on Thursday, Feb. 16.
Known as the "father of Tamoxifen," Dr. Jordan is funding the lecture and will deliver it virtually from the University of Texas MD Anderson Cancer Center in Houston, where he is professor of breast medical oncology and molecular and cellular oncology.
Tamoxifen is a hormone therapy drug used to treat receptor-positive early-stage and advanced-stage breast cancer. In September 1972, while a postdoc at the Worcester Foundation before it became part of UMass Chan, Jordan initiated the research that would eventually lead to the development of Tamoxifen and launch his career.
At the same time Jordan was working at the Worcester Foundation, the late Harry Brodie, PhD, and Angela Brodie, PhD, started their work on aromatase inhibitors, a class of drugs used in the treatment of breast cancer in postmenopausal women. Together, Tamoxifen and aromatase inhibitors are the two most important drugs for treating estrogen-dependent breast carcinoma.
Jordan named the lecture series, "The Angela and Harry Brodie and V. Craig Jordan Lecture in Cancer Drug Discovery," after the groundbreaking research conducted by the three colleagues at the Worcester Foundation. The topic for the inaugural lecture is "Estrogen starvation to treat or prevent breast cancer evolves to Selective Estrogen Receptor Modulators (SERMs)."
The lecture will take place on Thursday, Feb. 16, at 4 p.m. via Zoom and is hosted by the UMass Chan Department of Biochemistry & Molecular Biotechnology.
Related UMass Chan news stories:
Scientific symposium on Jan. 20 celebrates George Witman
Pincus Medalist Marsha Moses delivers annual scientific lecture at UMass Medical School
Jeffrey Gordon delivers Pincus Memorial Lecture linking microbiota to childhood malnutrition