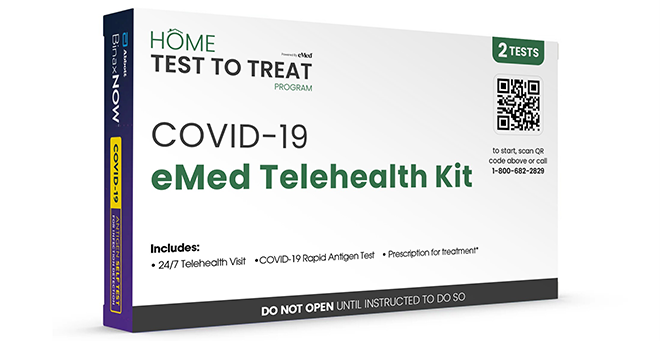 UMass Chan Medical School scientists are embarking on a new study to evaluate a community health intervention in the fight against COVID-19 as research partners in the National Institutes of Health's Home Test to Treat COVID-19 telehealth program.
The NIH, in collaboration with the Administration for Strategic Preparedness and Response at the U.S. Department of Health and Human Services, has launched the program, an entirely virtual intervention that will provide free COVID-19 health services—at-home rapid tests, telehealth sessions and at-home treatments—in selected communities. These communities are selected based on a review of their COVID-19 infection trends, social vulnerability index and discussion with state and local authorities. The approximately $7 million program, first announced by the White House in September 2022, will make antiviral treatment available for eligible individuals who receive a positive test result, which could prevent severe illness, hospitalization or death.
"Unfortunately, the challenges of access inequity persist and have deepened with the pandemic. Shortages in hospital beds and health care staffing are likely to exacerbate these inequities," said principal investigator Apurv Soni, MD, PhD'21, assistant professor of medicine and co-director of the Program in Digital Medicine at UMass Chan. "Demonstrating the feasibility of a home test and treat program and scaling it across diverse communities is critically important in determining how we can harness the power of digital medicine and health care innovation to provide resources to communities that need it the most."
Home Test to Treat builds on previous research on at-home antigen tests coordinated by UMass Chan and its partners in NIH's Rapid Acceleration of Diagnostics (RADx) Tech program begun in 2020.
"At-home testing for COVID-19 is now widely available in the United States, as are antiviral treatments, and this program combines easy home access to both," said Bruce Tromberg, PhD, director of the National Institute of Biomedical Imaging and Bioengineering at the NIH and leader of the RADx Tech program. "The Home Test to Treat program allows those who are sick an alternative to venturing out for testing or treatment, potentially reducing the spread of COVID-19 in the community."
Later this month, local and state officials in Berks County, Pennsylvania, will be the first to pilot the program. Their goal is to enroll up to 8,000 participants in the community.
Participants will enroll in the program on a Home Test to Treat website hosted by telehealth provider eMed, which is implementing the program. Participants will use the web platform to report symptoms, receive telehealth and antiviral treatment delivery, and coordinate telehealth-enabled test kits.
UMass Chan researchers will gather information from participants through surveys and clinical outcomes to identify best practices and make improvements to the Home Test to Treat model that can be used to implement the program on a larger scale. The program aims to enroll approximately 100,000 people across the United States by the end of 2023.
Related UMass Chan news stories:
Interest in point-of-care technologies increases among health care professionals during pandemic
FDA announces recommendations based on new study highlighting serial testing with rapid antigen tests
Just how accurate are rapid antigen tests? Two testing experts explain the latest data