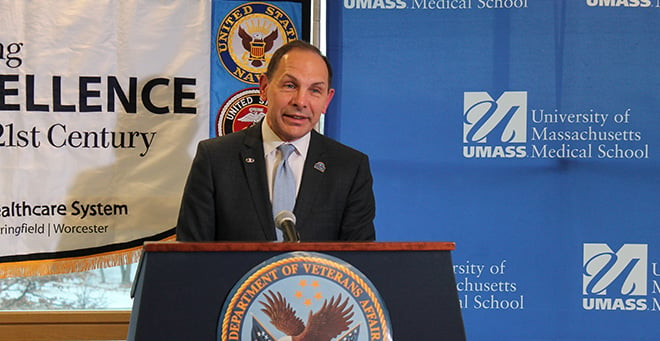 The UMass Chan Medical School Veterans Affinity Group held its first event on Wednesday, Nov. 2, ahead of the Veterans Day holiday, welcoming Robert McDonald, former U.S. Secretary of Veterans Affairs.
"The relationships that the VA has with medical schools, particularly UMass Chan, which is a model for other relationships, are critically important to medicine in our country," McDonald said during his opening remarks.
McDonald credited General Omar Bradley, handpicked by President Dwight Eisenhower to lead the VA in 1945, for coming up with the idea of locating the VA health care facilities near medical schools.
"It was Bradley, with a group of very intelligent, very insightful doctors," McDonald said. "He came up with this idea that the VA should be co-located with medical schools, that the medical schools and the VA should share doctors, share research and share clinical appointments."
McDonald listed medical schools at Duke, Stanford and Emory, as well as the Chicago Medical School, that all have a nearby VA on campus.
"This is purposeful, and it really creates a system that is essential to American medicine," McDonald said.
McDonald also highlighted the many innovations, such as the shingles vaccine, the first liver transplant and the first electronic medical record, resulting from the relationship between the VA and medical schools and doctors who worked in both institutions.
The event was held virtually, hosted by Chancellor Michael F. Collins and Jeff Carson, interim vice chancellor for human resources and head of the Veterans Affinity Group.
"The dozens of veterans in our campus community bring forth incredible experience, skill, resilience, talent, all of which are integral to our medical school,' Chancellor Collins said. 'I'm most grateful for their service, for folks who are willing to make that extraordinary commitment,"
McDonald said there are 19 million veterans in the U.S., of whom more than 6 million get their medical care from the VA.
The VA Central Western Massachusetts Healthcare System clinic on the UMass Chan campus opened in late 2021. The clinic has already served more than 10,000 patients during more than 44,000 medical visits.
Related UMass Chan news stories:
U.S. Veterans Affairs Secretary visits UMass Medical School
UMMS, VA launch first ever VA study of women's maternal health care