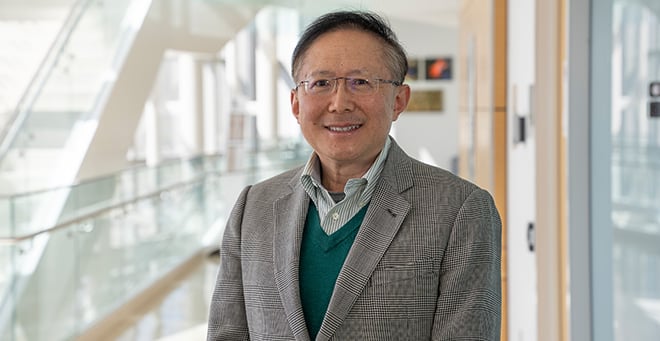 Guangping Gao, PhD, will be honored by the National Tay-Sachs & Allied Diseases Association for his work in identifying the Canavan gene, revitalizing gene therapy, and his many accomplishments leading to potential treatments for Canavan disease and many rare diseases at the nonprofit organization's "Imagine & Believe" gathering in Boston Nov. 10.
Dr. Gao, the Penelope Booth Rockwell Professor in Biomedical Research, professor of microbiology & physiological systems, director of the Horae Gene Therapy Center and co-director of the Li Weibo Institute for Rare Diseases Research, said it was rewarding professionally and personally to see his lifetime work bear fruit after 33 years of research.
The honor comes as promising results from the first three participants to receive the recombinant adeno-associated virus 9 (rAAV9) gene therapy developed by Gao, called BBP-812, were reported by BridgeBio Pharma at the annual meeting of the Child Neurology Society in October. BridgeBio is the licensed biopharmaceutical partner working to develop the therapy.
"Thirty years ago, when we published my PhD thesis on the gene discovery, we knew what was wrong but not what we are going to do about it and how we are going to fix it," he said. "So, I moved to the gene therapy field and now we really have some kind of therapy, so I feel very good about it."
Canavan disease is an ultra-rare, disabling and fatal disease affecting approximately 1,000 children in the United States and European Union. Most children are not able to reach developmental milestones; are unable to crawl, walk, sit or talk; and die at a young age.
The disease is caused by an inherited mutation of the ASPA gene that codes for aspartoacylase, a protein that breaks down a compound called N-acetylaspartate (NAA). Deficiency of aspartoacylase activity results in accumulation of NAA and ultimately results in cell death and destruction of myelin, which insulates neuronal axons.
Aspa Therapeutics, a BridgeBio company, obtained fast track designation, rare pediatric drug designation and orphan drug designation from the U.S. Food and Drug Administration in spring 2021 to start a Phase I/II clinical trial called CANaspire Gene Therapy Trial for Canavan Disease, and the first participant received a dose in October 2021.
Researchers will follow participating children for five years, assessing biomarkers as well as functional development and communication.
The first site for the CANaspire clinical trial is at Massachusetts General Hospital's Center for Rare Neurological Diseases, with Florian Eichler, MD, associate professor of neurology at Harvard Medical School, as principal investigator.
Data presented in October show that all three participants tolerated the IV infusions well and they reported no treatment-related serious adverse events.
Participants showed a consistent reduction in cerebrospinal fluid and brain NAA, supporting the ability of BBP-812 to reach the central nervous system and express ASPA enzyme. Combined with early signs of clinical change, including myelination seen on MRI and improved interaction between children and parents, researchers are encouraged that the therapy may be working as intended.
"I have to say through those years of research, the patients and the families are really my drivers," said Gao. "They push me, and I really always feel I'm very much closely connected with the community of Canavan disease, with parents and kids."
Related UMass Chan news stories:
UMass Chan research supports development of new suppressor-tRNA-based gene therapies
Raiden Science Foundation makes gift to UMass Chan for UBA5 gene therapy research
Guangping Gao and Dan Wang partner with ASC Therapeutics to develop novel gene therapy for maple syrup urine disease