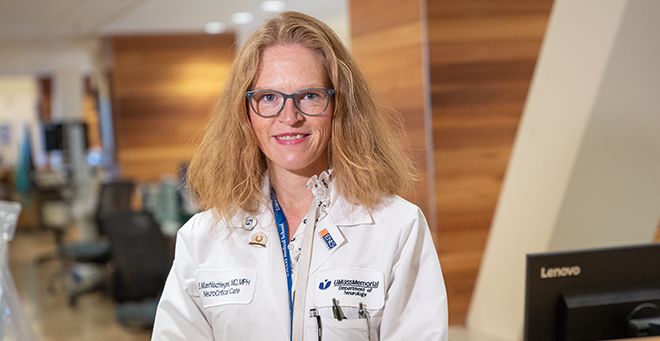 A pilot clinical trial led by UMass Chan Medical School and Yale School of Medicine may have unlocked an important tool that allows families to review all treatment options for patients in the neuroscience intensive care unit incapable of making their own decisions.
The results of the National Institutes of Health-funded study, led by Susanne Muehlschlegel, MD, MPH, professor of neurology at UMass Chan, and David Y. Hwang, MD, previously at Yale, now at University of North Carolina, were published in Neurology this month.
At the center of the research is a "goals-of-care" shared decision-making tool, or decision aid, created by Dr. Muehlschlegel and her team of research assistants and UMass Chan medical students. They developed the decision aid in collaboration with families of prior ICU patients.
"The whole drive to create something that gets to shared decision making really stemmed from personal experiences where I've seen families make irrational decisions, mostly because they just didn't have all the information they needed," Muehlschlegel said. "Often, it's that there are breakdowns in communication, they're too shocked to even hear all the things, or physicians do a poor job of explaining things, or even sometimes omit all options."
Muehlschlegel said she started developing the decision aid about five years ago based on how the decision-making process works in the neuro ICU. The tool is tailored to each patient.
"None of my patients are capable of making their own decisions. They're all in a coma, or severely injured, and cannot speak. They're intubated on a breathing machine. All decision making in our ICU goes through the family, the surrogate decision makers. Often, families are particularly vulnerable because of multiple things, and they're just not prepared to make decisions because it's a shock," Muehlschlegel said.
While a shared decision-making tool is often used for other illnesses and injuries, the decision aid she helped develop is the first of its kind for neurocritically ill patients that clinicians can use with families and surrogates.
"In a medical ICU, sometimes patients are chronically ill, and they get increasingly ill, and at some point, they're critically ill. In the neuro ICU, they're fine one moment and then they're not because they either got hit by a car or had a stroke or an aneurysm ruptured. And so, we hear this every day: 'But they were fine yesterday. And now you're telling me they're in a devastated state,'" Muehlschlegel said. "The shock and being unprepared to even wrap their head around what's going on, that is a huge factor in our particular ICU and in the population that we treat."
The pilot trial enrolled 66 surrogates across two sites, UMass Memorial Medical Center – University Campus Trauma Intensive Care Unit and the Yale School of Medicine's Neuroscience ICU over a two-year period and randomized surrogates to either use a paper-based decision aid or undergo usual care.
The response from the surrogates selected for the use of the decision aid was positive, with 96 percent finding it useful.
The exploratory patient outcomes showed a trend where surrogates in the intervention group chose withdrawal of life-sustaining therapies less.
"The biggest question is: what's the right clinical outcome? No one really knows that because there's no right or wrong decision here. We're not trying to convince people to all continue care or to all withdraw care. That's not what we're trying to do. We're trying to achieve patient value congruent decision," Muehlschlegel said.
The decision aid is now being developed as a digital tool in collaboration with Worcester Polytechnic Institute.
A feasibility study is expected to begin in early 2023 at UMass Chan. Ultimately, Muehlschlegel hopes to conduct a longer clinical trial to continue to explore the benefits of the tool.
UMass Chan related news stories:
Susanne Muehlschlegel dedicated to helping families of patients with severe acute brain-injury
Predicting outcomes after trauma to the brain