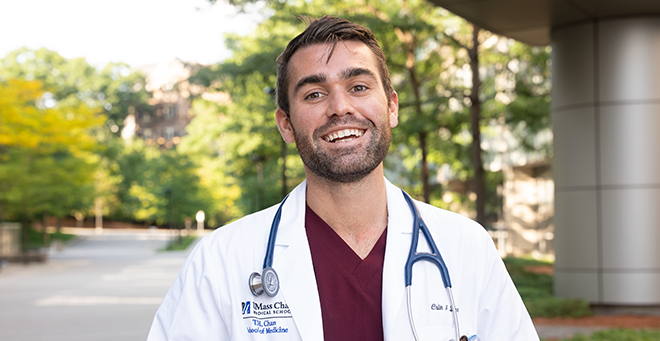 Medical student Colin Burnett presented his LGBTQI+ cancer survivor research at the American Association for Cancer Research Conference on the Science of Cancer Health Disparities in Racial/Ethnic Minorities and the Medically Underserved this month.
Burnett, a third-year student in the T.H. Chan School of Medicine, and co-authors found that most LGBTQI+ cancer survivors did not have access to health education resources tailored to their gender and/or sexual identities. Most respondents felt these resources would be valuable. Also, more people who felt unsafe sharing their LGBTQI+ identities with their health care teams were less than satisfied with their overall care compared to those who felt safe sharing.
Burnett suggested that health care institutions could improve the cancer care experience for the LGBTQI+ population by focusing on how to make their space safer for patients to share their gender and sexual identities with their care team. Some strategies include creating LGBTQI+-specific survivor support groups, normalizing acknowledgement of personal pronouns by displaying them openly on provider name badges, and developing clearer ways to note distinctions between gender identity and sex assigned at birth on medical documentation.
"The patients that we studied represent a population with unique care needs, specifically in the context of cancer screening, diagnosis, treatment and survivorship," said Burnett. "With such a paucity of research in this area, specifically for cancer survivors, or, more broadly, anyone who's on a cancer journey within this community, our findings will hopefully impact clinicians and anybody taking care of these patients."
Burnett's co-authors are Reece Lyerly, MS, MPH, project evaluator for the National LGBT Cancer Network, and William Jesdale, PhD, assistant professor of population & quantitative health sciences.
"The folks at the National LGBT Cancer Network concluded this fantastic survey called 'OUT: National Cancer Survey,' which poses as one of the largest compilations of data among this specific LGBTQI+ survivor population," said Burnett. "Having that data was one of our first opportunities to delve into their experiences, characterize them and get a better understanding of what patients liked and didn't like during their care."
Related UMass Chan news stories:
UMass Chan kicks off Convocation week with 10th annual LGBT celebration
UMass Chan raises LGBT pride flag on campus for September
Max Baker Resource Center receives large donation from Stop & Shop