Partnerships key to Medical School's success, Chancellor tells Worcester Homecoming audience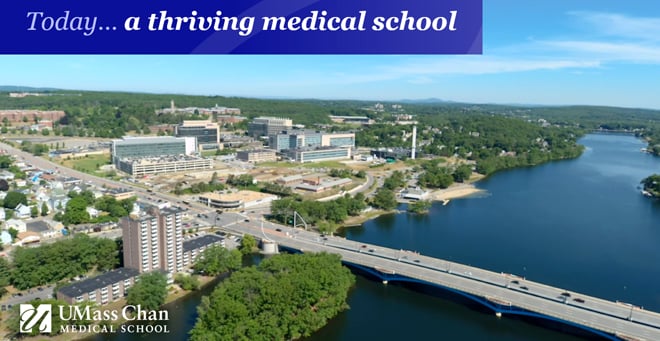 Chancellor Michael F. Collins heralded the emergence of UMass Chan Medical School as both the state's leading educator of primary care physicians and a research powerhouse in his keynote luncheon address for the inaugural Worcester Homecoming, held June 9 at the AC Hotel by Marriott Worcester.
Worcester Homecoming is a collaborative effort to drive inclusive economic growth in the region by building a network of distinguished Central Massachusetts alumni who feel reconnected to Worcester and inspired to participate in sustaining the momentum behind the city and region's renaissance.
UMass Chan drives $1.8 billion in annual economic activity and supports 12,000 jobs in the Worcester area, Chancellor Collins told the audience. In addition to the broad reach of its three graduate schools, MassBiologics, Commonwealth Medicine and the Bridge, which connects UMass Chan and the external life science ecosystem to support innovative research, UMass Chan anchors a burgeoning life sciences cluster in Worcester as the owner of UMass Chan Biotech Park.
Fifty years ago, however, what is now the Medical School campus was a hillside pasture. Winning the vote among the governor's committee to decide where to locate the state's first public medical school by the slimmest of margins, Worcester took a leap forward with the Medical School.
Collins said the Medical School was founded on the premise that the state needed more primary care physicians. Even today, more than half of T.H. Chan School of Medicine graduates pursue primary care careers.
That purpose has grown. The Medical School now conducts almost $400 million in funded research annually, supported by research facilities such as the Lazare Research Building built in 2001, the Albert Sherman Center built in 2013, the purchase of UMass Chan Biotech Park and current construction of the new education and research building.
"Having gone from what was largely a school to educate primary care physicians, we maintain fidelity to that mission," Collins said. "And now we have enormous research. And why is that important? The reason is because it is our mission to change the course of history of disease."
Collins cited the pioneering work being done at UMass Chan on rare diseases such as Canavan and Tay Sachs, as well as innovative gene therapies to address neurodegenerative diseases including amyotrophic lateral sclerosis.
"This is a world-class medical school," said Collins, noting that the faculty includes 12 members of the National Academies and four investigators and one scholar of the Howard Hughes Medical Institute. He added that scientists from prestigious universities in Boston and elsewhere are now clamoring to come to UMass Chan.
UMass Chan's future took an even brighter turn with the $175 million gift last year from The Morningside Foundation, the largest in UMass history. Collins recounted his meeting in August with Gerald Chan, a Hong Kong-born investment magnate and scientist whose family business' charitable arm made the donation: "Dr. Chan and I shook hands and Dr. Chan said, 'I'm going to give you $175 million to transform the medical system.'"
Collins credited much of UMass Chan's continuing success to the ecosystem of collaboration in the greater Worcester community.
"The collaborative gene in Worcester is dominant and fully expressed," said Collins.
He highlighted the Medical School's engagement in the community, such as the volunteer Vaccine Corps that delivered more than 200,000 COVID-19 vaccines and partnerships with local, state and federal leaders to bring about resources for the new VA Community-based Outpatient Clinic.
"It is an incredible privilege for us to be in this community and we take it seriously," Collins said. "And frankly, in our strategic plan, we see our responsibility in Worcester as part of a foundational commitment to engagement and partnership in all that we do."
UMass Chan is a platinum sponsor of the three-day Worcester Homecoming event, which kicked off with a fireside chat at the BrickBox Theatre on June 8 with Nobel Laureate Craig Mello, PhD, Howard Hughes Medical Institute Investigator, the Blais University Chair in Molecular Medicine, and distinguished professor of RNA therapeutics and molecular medicine. Worcester Homecoming coincides with the city's tercentennial celebration weekend.