UMass Chan Medical School students will conduct qualitative research focused on pregnancy and maternity care for women veterans this summer through the Veterans Administration's new training program designed to diversify the research workforce.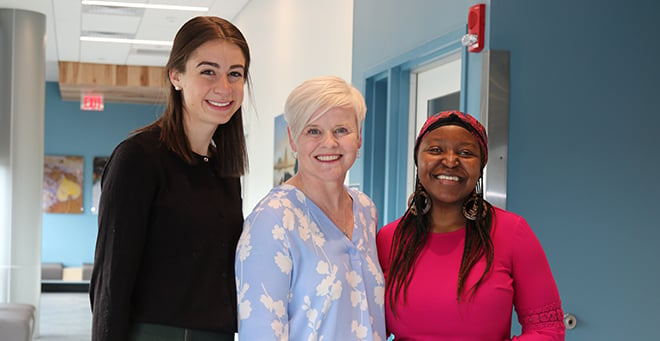 UMass Chan students Laël Ngangmeni, MBS, and Micaela Tobin will take part in the Summer Research Program alongside UMass Amherst student Tanmaiyee Vaddepati and University of Pittsburgh student Akila Sanjay. Kristin Mattocks, PhD, MPH, professor of population & quantitative health sciences and associate dean for veterans affairs, is the program director for UMass Chan.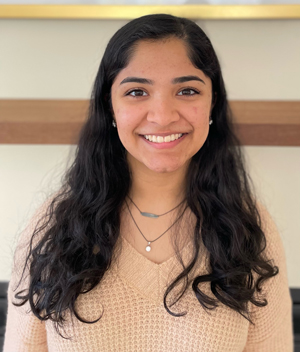 "The student researchers are going to have access to interviewing pregnant women and doula agencies and doing qualitative and quantitative research. They're going to have a lot of data to work with," Dr. Mattocks said.
The VA's Office of Research and Development is funding the pilot program at UMass Chan and about a dozen other sites. The goal is to enhance the diversity of the biomedical, behavioral, rehabilitative and clinical research workforce by providing research experiences to undergraduate and health professional students from diverse backgrounds, including those from groups nationally underrepresented in the biomedical, clinical, behavioral, rehabilitative and social sciences.
Mattocks said the students at the UMass Chan site will be working on the Center for Maternal and Infant Outcomes Research in Translation study that has been underway for six years, in which pregnant veterans are recruited from 15 VA facilities across the country and followed through pregnancy as researchers work to better understand postpartum outcomes. They'll also be a part of the first-ever VA doula study, happening in New Orleans, Louisiana, and Durham, North Carolina. Pregnant veterans will receive doula care at the end of their pregnancy in the pilot study, which Mattocks said could go nationwide in a year.
"We found that there were really big racial ethnic disparities in C-sections at some of our study sites. Doula care in the non-VA world has been shown to really improve maternal outcomes," Mattocks said.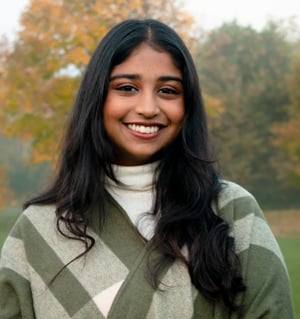 Mattocks said the goal is that by the end of the summer, the students will each publish a paper on a topic that interests them.
"I'm excited to get to know the process of research and clarify how you go from asking a question to doing the research that's applicable and can make a difference, especially with veterans of color," said Tobin, a first-year medical student in the T.H. Chan School of Medicine's Clinical Translational Research Pathway who spent a year working in a fertility clinic prior to medical school. "There's so much to research there and so much that needs to be changed. How do we go about asking the questions that can make an impact?"
"Numbers can be a simple thing. But when somebody talks about their experience and how they feel and about trust—these things are abstract," said Ngangmeni, an MD/PhD student in the Clinical and Population Health Research Program who wants to be an OB/GYN and is interested in health disparities. "Part of what you're learning is how to hear and understand someone's experience and get that across to providers or other patients—to better optimize a system and make health care a better experience for everyone."
The Summer Research Program is a three-year program; students who work this year will have the opportunity to return the next two summers.
Related UMass Chan news stories:
VA pilot grant led by Kristin Mattocks to study doula care among pregnant women veterans of color
UMMS, VA launch first ever VA study of women's maternal health care
MD/PhD student Laël Ngangmeni dedicated to women's health equity and justice