Asian Women for Health founder shares mission with UMass Chan group
Breast cancer survivor Chien-Chi Huang launched advocacy group to improve health equity
Community organizer Chien-Chi Huang, founder of the Asian Breast Cancer Project and Asian Women for Health, spoke at the April 20 Diversity and Inclusion Office Centering the Margins series and shared how her experience as a breast cancer survivor led her to advocate for Asian women's health.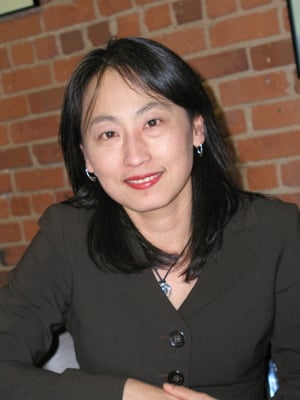 An immigrant from Taiwan, Huang noted that at the time of her diagnosis in 2005, "there were no resources catering to Asian women." This led to the founding of the Asian Breast Cancer Project.
She said research has found that Asian women have the lowest breast cancer screening rate, while the rate of the disease is increasing. Asian women are being diagnosed with breast cancer 10 years younger than other populations, she said.
"The project translates information pertinent to breast health in various Asian languages," she said. "It was formed to ensure that cultural and linguistic barriers do not prevent women from accessing preventive care information."
Expanding its reach beyond disease specific programming, the Asian Breast Cancer Project expanded into the nonprofit Asian Women for Health, a peer-led, community-based network dedicated to advancing Asian women's health through education, advocacy and support. Huang is the executive director.
"The overarching goal is to advance health equity for all as we realize that in order to have access to ultimate care, we must work with and show up for all the communities and populations that are marginalized," Huang said.
The efforts of Asian Women for Health have led to health-based collaborations. The Black and Indigenous Women of Color (BIWOC) Gathering Circle helps address mental health and overall wellness through symposiums. Asian Women for Health has been tasked as the regional liaison to Asian communities in the All of Us Research Program an ambitious effort to gather health data from more than 1 million people across the United States to build one of the most diverse health databases in history that will help to predict diseases and find cures.
Huang said Asian Americans are underrepresented in clinical research and trials.
"Often times when people are doing research, they don't think of the Asian community because of the model minority myth that Asians are healthy, wealthy and well educated," Huang said.
She commended UMass Chan Medical School for its community-based research. Asian Women for Health has several projects in the works and welcomes the Medical School as a collaborator, she said.
The Centering the Margins series features local and national leaders working for health equity in innovative ways.
Related UMass Chan news stories:
Diversity and Inclusion Office hosts discussion on implicit bias in health care disparities
Advocate and activist Chastity Bowick keynote speaker for Transgender Day of Remembrance
Discussion of land acknowledgment is step toward more diverse, inclusive institution