Elinor Karlsson explains global effort to map genomes of all plants, animals, fungi and more
Earth BioGenome Project advances to next phase with PNAS special feature
Elinor Karlsson, PhD, offers insights into various applications of modern comparative genomics in a perspective piece published by the Proceedings of the National Academies of Science. The paper is part of a special feature in PNAS on the Earth BioGenome Project, a global effort to map the genomes of all plants, animals, fungi and other microbial life on Earth. The collection of 10 papers marks a new phase for the Earth BioGenome Project as it moves from pilot projects to full scale production sequencing.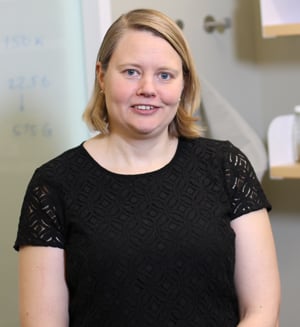 "Less than 1 percent of eukaryotic species have a representative genome sequence in the GenBank [the NIH genetic sequence database], and only a fraction of these have ancillary information on genome structure, genetic variation, gene expression, epigenetic modifications and population diversity," said Dr. Karlsson, associate professor of molecular medicine at UMass Chan Medical School and lead author of the PNAS perspective paper, "Darwinian genomics and diversity in the tree of life." She is also the director of the Vertebrate Genomics Group at the Broad Institute of the Massachusetts Institute of Technology and Harvard University.
"Evolution is an unparalleled tool for research," she said. "By comparing genomes with and between species, and connecting genomic variation to changes in cells, organisms and ecosystems, we access the results of a natural experiment carried out on an unfathomable scale."
By removing barriers that separate comparative genomics and human genomics into distinct disciplines, and integrating with nongenomic disciplines, Karlsson envisions a future where every species is transformed into a "model organism" to accelerate biomedical discoveries.
For instance, other species routinely exhibit evolutionary and genetic adaptions that allow them to tolerate conditions that in humans can cause disease. Hibernating mammals, for example, become obese and insulin resistant in preparing for hibernation, a condition biologically not unlike that caused by diabetes in humans. Yet hibernating mammals emerge healthy from this state in the spring. Modern comparative genomics offers an opportunity to probe this physiological feat for genetic clues to this process. This knowledge, in turn, may offer biological insights useful for treating obesity and diabetes.
Launched in November 2018, the Earth BioGenome Project has a goal of providing a complete DNA sequence catalog of all 1.8 million named species of plants, animals and fungi as well as single-celled eukaryotes in the next ten years.
Earth is forecast to lose 50 percent of its biodiversity by the end of this century without action to curb climate change and protect the health of global ecosystems. Creating a digital library of DNA sequences for all known eukaryotic life can help generate effective tools for preventing biodiversity loss and pathogen spread, monitoring and protecting ecosystems, and enhancing ecosystem services, said Harris Lewin, chair of the Earth BioGenome Project Working Group and distinguished professor of evolution and ecology at the University of California, Davis.
The project functions as an international network of networks, coordinating numerous group-specific, regional and national-scale efforts, such as the California Conservation Genome Project, the Darwin Tree of Life in Great Britain and Ireland, the Vertebrate Genome Project, and the 10,000 Bird Genomes Project.
The first two years of the Earth BioGenome Project represented the startup phase. The goal for phase 1 (through 2023) is to produce reference genomes representing about 9,400 taxonomic families. So far, affiliated projects have produced about 200 such reference genomes, with sequencing, assembly and annotation of more than 3,000 expected to be completed by the end of 2022, representing about one-third of the phase 1 goal.
As of December 2021, the project included 5,000 scientists and technical staff at 44 member institutions in 22 countries on every continent except Antarctica. There are 49 affiliated projects covering most of the major taxonomic groups of eukaryotes, which have access to tens of thousands of high-quality samples from museum collections and field biologists. Most recently, a group of African institutions in 22 countries came online as the Africa BioGenome Project. BIOSCAN, which is implementing DNA barcode technology for discovering and identifying species, and the Global Virome Project, an effort to discover new viruses that might pose pandemic threats, have also joined as affiliates.
Related stories from UMass Chan Medical School:
Scientists sequence genomes of 240 animals to understand evolution at DNA level
Genomic analysis reveals many species may be vulnerable to SARS-CoV-2
LISTEN: Elinor Karlsson explains how dog DNA aids human research
Study of canine genetics holds clues to better human health
What clues does your dog's drool hold for human mental health?