Janjay Innis named one of Worcester's Women to Watch by Worcester Magazine
Janjay Innis, communications content specialist for diversity and inclusion at UMass Chan Medical School, was named one of the Worcester Magazine's "Worcester's Women to Watch 2022."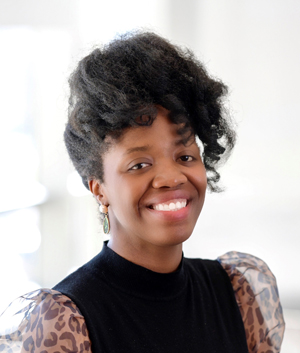 Innis, who joined the Medical School in August 2021, noted that her desire to work where she grew up stemmed from the public conversations about race and bias the nation was forced to confront in light of the killings of George Floyd, Ahmaud Arbery and Breonna Taylor, among others, in 2020.
"I moved back to Worcester with all my skill sets," she said in the Worcester Magazine story, "ready to partake in the shift that ensures power is shared and access is available to all."
Originally from Liberia, West Africa, Innis grew up in Worcester, where she attended local public schools. She is a graduate of UMass Amherst, where she majored in English, and has a graduate degree from Boston University where she studied religion and conflict transformation. She has worked in refugee and immigrant advocacy in Tacoma, Washington, and has directed community engagement and social justice advocacy work with various faith communities in Atlanta, Georgia.
"As we continue to lean into candid conversations about diversity, equity and inclusion through institutional commitments, I want to be part of facilitating a shift in this city where our engagement with diversity, equity and inclusion doesn't start and end with a display of culture by way of festivals and parties, but it includes intentional conversations where we listen to and amplify the voices and stories of unrepresented communities, uplift the gifts and insights they bring to our shared communities, name the disparities they face so that together we can address them, and celebrate gains that will be beneficial to all of us," Innis said.
Read the full Worcester Magazine story here: Worcester's Women to Watch in 2022