UMass Chan Cares employee charitable giving campaign kicks off Nov. 1
UMass Chan Cares, the UMass Chan Medical School charitable giving campaign, will begin on Monday, Nov. 1, and continue through Tuesday, Nov. 23. The annual campaign provides faculty, students and employees with the opportunity to donate to a wide range of causes they care about.
"Over the years, our dedicated faculty, students and staff have contributed millions of dollars to strengthen the communities where we live and work. Their generosity has impacted countless individuals and families, while supporting causes near and dear to their hearts," said Chancellor Michael F. Collins. "This year the need is even greater as we slowly emerge from a pandemic and continue to work together to address pressing societal issues such as systemic racism, population health, and gender and health inequities, to name a few. Funds raised through UMass Chan Cares help charitable organizations perform their essential work."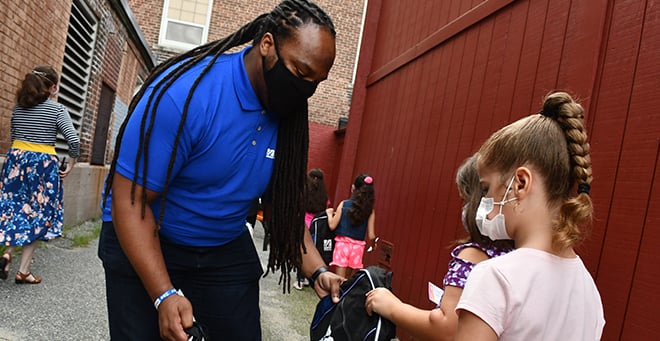 Participants have numerous options to direct their donations via three funding channels, including four funds administered by the UMass Chan Medical School Foundation:
North Quadrant Support Services
Since being established in 2017, the NQSS initiative has supported educators and students in the North Quadrant of the Worcester Public Schools, home to some of the city's most economically disadvantaged residents. Recent support has included supply-filled backpacks for students, hot spots for remote learning and classroom grants.
UMass Chan Medical School Foundation
Donations can be directed via the foundation to the following funds:
UMass Chan Medical School Research – UMass Chan Medical School is home to some of the world's preeminent biomedical sciences researchers. Donations support their efforts to identify and develop solutions to devastating ailments, from heart disease to cancer to ALS.
UMass Chan Medical School Student Financial Aid – This fund enables UMass Chan Medical School to attract talented students regardless of their ability to pay, providing financially disadvantaged students opportunities to pursue a medical education.
UMass Chan Medical School Veterans Fund for Health Research – New this year as the region celebrates the November opening of a community-based outpatient clinic for veterans on the UMass Chan Medical School campus in Worcester, this fund will support improved care for local veterans and provide enhanced learning and research opportunities for students and faculty.
UMass Chan Medical School Diversity and Inclusion – In order to promote a culture that celebrates and espouses the values of respect, inclusivity, collegiality and diversity, while acknowledging and effectively addressing bias, contributions will support institution-wide efforts to educate the Medical School community about the importance of diversity and inclusion.
The United Way of Central Massachusetts
Donors can direct contributions to any of more than 1,000 prescreened nonprofit organizations spanning the globe.
"On behalf of our students, families and staff at Rice Square School, we would like to thank UMass Medical School for the generosity they have provided us over the past several years," said Susan Donahue, principal of Rice Square Elementary School in Worcester. "Most recently, the Medical School provided the funds for us to purchase a literacy program that supports our English-language learners and that celebrates diversity and multiculturalism. We cannot thank you enough for your continuous support you provide to our students, families and our school community."
Gifts may be made via payroll deduction, credit card or check. Learn more and donate at the UMass Chan Cares giving site when it goes live on Monday, Nov. 1.
Related stories on UMassMed News:
Worcester elementary students greeted with supply-filled backpacks from UMass Medical School
UMass Medical School providing aid to Worcester Public Schools summer learning program