John Romano, a fourth-year medical student in the T.H. Chan School of Medicine at UMass Chan Medical School, has been named a 2021 Pisacano Scholar. This award recognizes outstanding medical students who have made a commitment to enter the field of family medicine.
Recipients are awarded up to $28,000 each from the Pisacano Leadership Foundation, Inc. Applicants must also show demonstrable leadership skills, superior academic achievement, strong communication skills, identifiable character and integrity, and a noteworthy level of community service.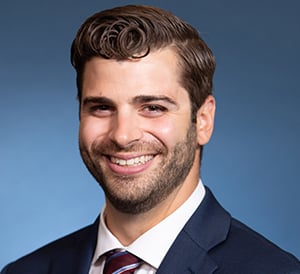 "This scholarship has connected me with many leaders in the field of family medicine and will provide me with additional leadership training. I plan to leverage these connections and additional training to support future projects aimed toward increasing access to primary care," Romano said.
Over nearly three decades, the foundation has selected 166 medical students for the award. Approximately 3,000 applicants representing more than 140 medical schools have competed for the scholarships.
Romano graduated with a Bachelor of Arts in psychology from the College of Holy Cross in Worcester. During his undergraduate study, he worked as a research fellow with the National Center on Family Homelessness. He also taught a smoking cessation class in a residential addiction recovery program for people who had been incarcerated.
Romano later worked as a research coordinator for Brigham and Women's Hospital and Massachusetts Eye and Ear. He said his daily work with patients led him toward his passion for family medicine. He also started a support group for patients with a rare blindness-inducing eye disease after learning of their need to connect with others who share the same condition.
At the T.H. Chan School of Medicine, Romano volunteered with a free clinic in Worcester and became co-president of the student group that helps staff, fund and coordinate the activities of the seven free clinics in the greater Worcester area. His fundraising skills aided him in creating a task force of representatives from these community programs to form the non-profit, Worcester Free Care Collaborative.
"I ultimately plan on practicing family medicine in a rural, underserved area with my fiancée Rachel Anderson — with whom I am couples matching — as we both apply into family medicine residency," he said.
Related story on UMassMed News:
MLK Semester of Service awardees will address local health and education needs