Riaan Research Initiative, a nonprofit organization, and UMass Chan Medical School are entering into an agreement to fund, research and develop a gene replacement therapy to combat Cockayne syndrome, a fatal autosomal recessive disorder. Cockayne syndrome, first identified in 1936, impacts a few hundred children around the world and is primarily caused by mutations in genes CSA and CSB, which are responsible for the body's DNA repair and transcription process. Children with Cockayne syndrome experience a form of premature aging, severe neurodegeneration, growth failures, microcephaly, vision and hearing impairments, hypotonia, developmental delays, and an extremely shortened lifespan.
The research will be led by Ana Rita Batista, PhD, instructor in neurology, and Miguel Sena-Esteves, PhD, associate professor of neurology, utilizing a mouse model that exhibits the severe phenotype seen in Cockayne syndrome patients. The UMass Chan research team aims to design, study, identify and produce an adeno-associated viral vector candidate, following efficacy and safety studies in the animal model, to treat mutations in gene CSA.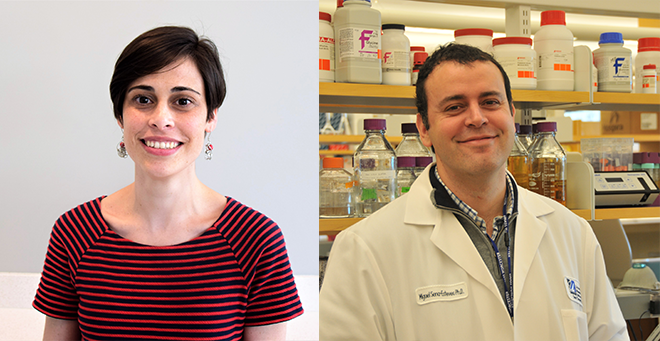 Riaan Research Initiative will fund the Medical School's preclinical CSA gene replacement therapy research.
"This work is an urgent labor of love and was inspired by our beautiful 21-month-old son, Riaan, who has been diagnosed with the most severe form of Cockayne syndrome," said Jo Kaur, founder of Riaan Research Initiative.
Shortly after the diagnosis, Kaur said her family was connected to Terence R. Flotte, MD, the Celia and Isaac Haidak Professor, executive deputy chancellor, provost and dean of the T.H. Chan School of Medicine, whose lab had begun the foundational research into using gene therapy to treat the disease.
"We hope to carry this work to the finish line and are honored to partner with the exceptional team of gene therapy scientists at the Medical School," she said. "We are also grateful to Cockayne syndrome experts from around the world and members of our Scientific Advisory Board, who have provided valuable input to give us our best shot at developing a therapy."
Dr. Sena-Esteves said, "Developing gene therapy treatments for Cockayne syndrome and diseases with a small number of patients is challenging in a commercial setting. However, there are numerous examples, including our own, where the partnership of parents with an unbendable determination to help their children with researchers in the gene therapy field have resulted in clinical trials for diseases in this category."
"The partnership of the Medical School's gene therapy team with the Riaan Research Initiative will lead to a first-in-human AAV gene therapy clinical trial for Cockayne syndrome as fast as humanly possible. Children like Riaan inspire us to work harder every day to overcome and persist through the challenges in research to give them a chance at a better life."