The Program in Systems Biology has been elevated to full department status, with Marian Walhout, PhD, the Maroun Semaan Chair in Biomedical Research and professor of molecular medicine, serving as the founding chair of the Department of Systems Biology, Terence R. Flotte, MD, executive deputy chancellor and provost of UMass Chan Medical School and dean of the T.H. Chan School of Medicine, announced on Sep. 27.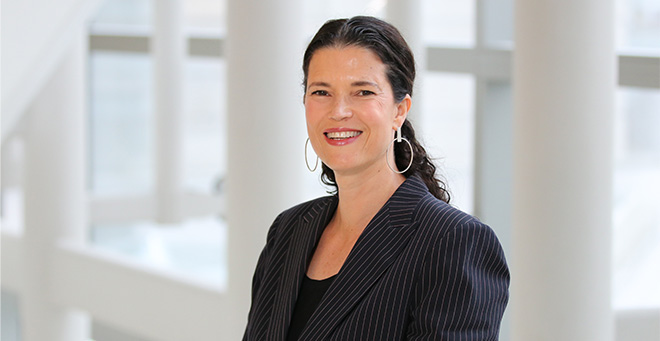 Dr. Walhout and Job Dekker, PhD, Howard Hughes Medical Institute Investigator, the Joseph J. Byrne Chair in Biomedical Research and professor of biochemistry & molecular pharmacology, joined the Medical School in 2003 and have co-directed the Program in Systems Biology since its establishment in 2011.
"Together, they have positioned the Medical School as one of the premiere destinations for the field of systems biology research," said Dr. Flotte. "Under Marian's direction, the department will pursue cutting-edge interdisciplinary and collaborative research in an open and inclusive culture in which trainees, faculty and staff at all stages in their careers are strongly encouraged to participate so that they can reach their full potential."
Walhout earned her doctoral degree in biochemistry and molecular biology at Utrecht University in the Netherlands. The Walhout lab aims to understand how biological networks are organized, how their organization enables function and how these networks evolve. Its main focus is on the gene regulatory networks that control proper gene expression, and on metabolic networks that provide building blocks and energy to support organism development; growth; wound healing; homeostasis; and response to nutritional, environmental and therapeutic inputs. As a principal investigator, Walhout has been continuously funded since 2002 and has authored more than 100 peer-reviewed publications and several book chapters. She is an associate member of the Center for Cancer Systems Biology at the Dana Farber Cancer Institute and has been a senior fellow of the Canadian Institute for Advanced Research program in genetic networks.
The Department of Systems Biology brings together an enthusiastic and highly collaborative group of scientists who employ an array of experimental and computational approaches to study a variety of biological systems. All research in the program integrates high-throughput experimentation and quantitative data analyses to study how biological systems behave, respond, adapt and evolve. Faculty are focused on answering major scientific questions such as how bacteria affect physiology and drug responses; how the genome folds and is expressed; and how cells and organisms die or live, while employing a variety of experimental approaches and model systems, including animal models, dinoflagellates, computational approaches, network biology and mathematical modeling.
Related stories on UMassMed News:
Marian Walhout receives $4.1 million outstanding investigator award from NIH
Joseph J. Byrne Chair in Biomedical Research, Herman G. Berkman Chair in Diabetes Care Innovation established at UMMS
UMass Medical School faculty appointed to endowed chairs