UMass Chan Medical School Convocation 2021 will celebrate scholarship and education
Events beginning Sept. 9 include investiture of nine faculty in endowed professorships
The UMass Chan Medical School community will officially launch the new academic year with Convocation 2021 events taking place from Thursday, Sept. 9, through Friday, Sept. 17. The traditional annual proceedings will be especially joyous as they will take place in person after last year's cancellations due to COVID-19.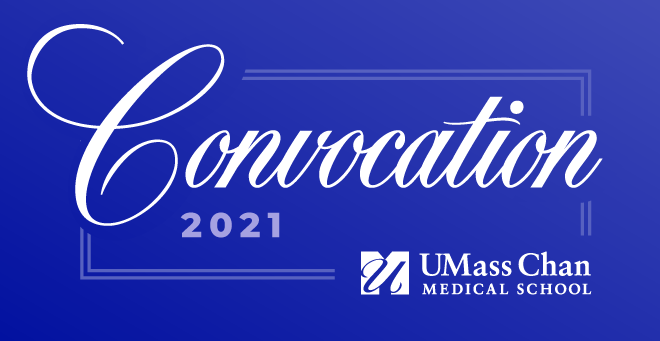 Festivities will begin with Convocation and Investiture ceremonies on Thursday, Sept. 9, at 4 p.m. in the Albert Sherman Center auditorium. At Convocation, Chancellor Michael F. Collins will deliver an address and present the 2021 Chancellor's Medals for excellence in teaching, scholarship, service and clinical excellence.
Immediately following Convocation, Investiture ceremonies will honor nine distinguished faculty members as named professors and honor the donors who endowed them. The professorships include four new endowments and five successors to previous incumbents that have taken place since 2019. A reception for honorees and guests will be hosted in the Albert Sherman Center Cube.
The following named professors will be invested:
Douglas Golenbock, MD, professor of medicine, will be honored as the inaugural Neil and Margery Blacklow Chair in Infectious Diseases and Immunology. Dr. Golenbock is an accomplished faculty leader at UMass Chan, as well as one of the top physician investigators in infectious diseases nationally. Renowned as a founding member of the international innate immunity research community, he has focused his research on microbial products in innate immune activation and his laboratory was one of the first in the world to study toll-like receptors.
Anastasia Khvorova, PhD, professor of RNA therapeutics and the inaugural incumbent of the Remondi Family Chair in Biomedical Research, is a pioneer and leading expert in understanding the biochemistry of RNA therapeutics. With her lab's goal to deliver therapies with a revolutionary approach to reaching tissues previously not targeted by RNAi, during the COVID-19 pandemic Dr. Khvorova quickly pivoted to investigate a cocktail of oligonucleotides that in concept could be delivered to all cell types in the lungs.
Brian Lewis, PhD, professor of molecular, cell & cancer biology, will be endowed as the second George F. Booth Chair in the Basic Sciences. While he embraces numerous educational leadership roles dedicated to increasing diversity in the biomedical sciences and health care careers pipeline, Dr. Lewis is fundamentally a prolific basic scientist, for which the endowment was created. His impactful cancer biology research, focused on pancreatic cancer, has contributed significantly to the understanding of molecular mechanisms underlying disease development and progression of the deadly disease.
David McManus, MD, chair and professor of medicine, assumes the Richard M. Haidack Professor in Medicine. In addition to excellence as a clinical educator, Dr. McManus conducts cutting-edge cardiac electrophysiology and digital medicine research. His leadership of the Massachusetts Medical Device Development Center and the Center for Advancing Point of Care Technologies partnerships with UMass Lowell paved the way for a $123 million grant award for the Rapid Acceleration of Diagnostics program. RADx is a centerpiece initiative of the National Institutes of Health established in response to the COVID-19 pandemic.
Jennifer Reidy, MS, MD, associate professor of family medicine & community health and chief of the Division of Palliative Medicine, was named the Joy McCann Professor for Women in Medicine for her commitment of time and talent to the advancement of women in medicine. Dr. Reidy is an academic and clinical physician leader advancing palliative care, an essential component of medical practice to improve the quality of health care, reduce harm and honor the wishes of patients.
Milagros Rosal, PhD, professor of population & quantitative health sciences, is the inaugural incumbent of the newly endowed Imoigele P. Aisiku, MD'97 Chair in Health Equity and Diversity. An influential thought leader in health equity research, Dr. Rosal is a pioneering community-engaged researcher who mobilizes partnerships in the local community to inform and shape research on ways to prevent and manage persistent and problematic chronic health conditions that result from a lack of health equity. The newly endowed chair is attendant with her appointment as UMass Chan's first vice provost for health equity.
Erik Sontheimer, PhD, professor of RNA therapeutics, is the newest holder of the Pillar Chair in Biomedical Research, in recognition of his role as a pioneering leader in the field of CRISPR gene editing. The impact of Dr. Sontheimer's scholarly achievement is in keeping with the endowment's broad mandate to impact human health and medical practice. His co-discovery of the first "off-switches" for CRISPR/Cas9 gene editing bolsters promise for better control over the revolutionary technology in order to ultimately achieve clinical applications.
Gregory A. Volturo, MD, chair and professor of emergency medicine, is the inaugural incumbent of the Richard V. Aghababian, MD'74 Chair in Emergency Medicine. Dr. Volturo has upheld and expanded upon the legacy of Dr. Aghababian, his late mentor and founding department chair whose wife established the endowment in memoriam. Volturo brings decades of emergency medicine academic and clinical leadership to his myriad teaching, administrative and research roles. Most recently he has maintained steady leadership of the department's many faculty and staff who have courageously served on the frontlines of the pandemic.
Kimberly Yonkers, MD, chair and professor of psychiatry, is the first Katz Family Chair in Psychiatry, newly endowed to support the department chair's medical education, patient care and research initiatives. Dr. Katz is an innovative and visionary leader in connecting psychiatry and women's health with research into the treatment of illnesses in pregnancy and the postpartum period and across the menstrual cycle. As a woman in leadership committed to the challenges women in medicine face, she will further gender equity on the Medical School campus and beyond.
Additional Convocation events will take place the following week.
The Tan Chingfen Graduate School of Nursing will hold the annual Graduate Entry Pathway Pinning Ceremony on Monday, Sept. 13, at 6 p.m. in the Albert Sherman Center Auditorium. Students will be ceremonially presented with their nursing pins denoting readiness to become licensed as registered nurses and welcoming them into the profession. Registered nurse licensure for individuals with a baccalaureate degree in a field other than nursing is the first milestone in continuing study to complete Doctor of Nursing Practice and PhD in Nursing degrees that will lead to careers in nursing education, leadership, clinical care and research.
On Tuesday, Sept. 14, the Morningside Graduate School of Biomedical Sciences Recognition Ceremony will recognize students who have successfully completed the doctoral qualifying exam and are proceeding with thesis research in the laboratory of their faculty advisor. Members of the UMass Chan scientific community will gather to recognize the accomplishments of their future colleagues at 3 p.m. in the ASC auditorium. Successfully passing the exam marks the transition from classroom-based learning to candidacy for a doctoral degree, an important milestone in the educational and professional development of basic science and clinical research graduate students.
Two T.H. Chan School of Medicine White Coat Ceremonies are taking place on Friday, Sept. 17, at the Hanover Theater in Worcester, where the Class of 2025 will assemble at 11 a.m., and the Class of 2024 at 4 p.m. The White Coat Ceremony, initiated in 1993 by the Arnold P. Gold Foundation for Humanism in Medicine and now conducted nationwide, emphasizes the importance of both scientific excellence and compassionate care for the patient. The white coat is placed on each student's shoulders by individuals who represent the value system of the school and the new profession the students are about to enter.
Frank Domino, MD, professor of family medicine & community health and recipient of the 2021 Manning Prize for Excellence in Teaching from the University of Massachusetts, will be the keynote speaker for the Class of 2025. Sarah Cheeseman, MD, professor emeritus of medicine and recipient of the 2019 Recipient of the Chancellor's Medal for Distinguished Clinical Excellence, will address the Class of 2024.
The live events will streamed on UMass Chan's Facebook page.
Additionally, the Diversity & Inclusion Office will hold its annual LGBTQ+ Convocation event virtually on Monday, Sept. 13, from noon to 1 p.m., featuring Ben Greene, MAT, an educator, activist and author of the book, My (Blank) is Trans, Now What? Green has worked in transgender inclusion education, including developing trainings to improve workplace inclusion, and will speak on best practices in supporting the LGBTQ+ community. Click here to register.