UMass Medical School researchers to evaluate treatment options for early COVID-19 infection
UMass Medical School is participating in the ACTIV-2 Outpatient Monoclonal Antibodies and Other Therapies Trial, which is being led by the AIDS Clinical Trials Group (ACTG). ACTIV-2 includes both Phase II and Phase III evaluations of investigational agents for treating early COVID-19.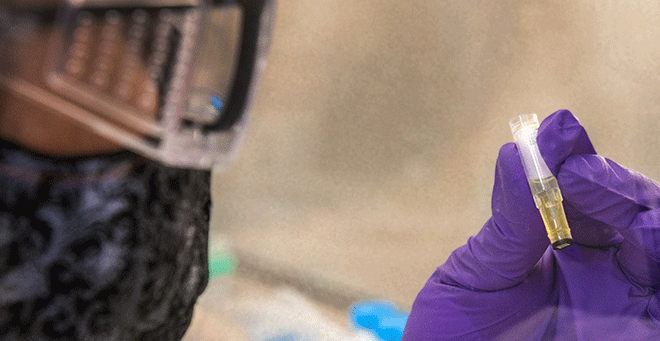 "The goal of ACTIV-2 is to identify treatments that can keep people who acquire COVID-19 from getting sicker and requiring hospitalization," said Robert W. Finberg, MD, distinguished professor of medicine and lead investigator of the Medical School's ACTIV-2 trial site. "People living in central Massachusetts who have recently been diagnosed with COVID-19 and are not hospitalized have the opportunity to make a huge contribution by participating in this study."
ACTIV-2 is a randomized, blinded, controlled adaptive platform that allows promising therapies to be added and removed over the course of the study to efficiently test a variety of new agents against placebo within the same trial infrastructure.
In addition to studying the safety and efficacy of these investigational therapies, ACTIV-2 also aims to determine whether the therapies are able to decrease viral shedding, thereby potentially preventing transmission of SARS-CoV-2. Participants will be randomized to receive one of the following agents or a placebo:
BMS-986414 and BMS-986413 are two monoclonal antibodies administered as subcutaneous injections given at one visit. Because they target two different parts of SARS-CoV-2, the hope is that the combination therapy will improve efficacy, cover multiple variants and reduce the likelihood that the virus will develop resistance to the treatment. (Phase II study)
SAB-185 is the first polyclonal antibody (a treatment containing many different antibodies) to be evaluated in ACTIV-2. SAB-185 is administered through an intravenous infusion. (Phase II study)
BRII-196 and BRII-198 are monoclonal antibodies administered as separate infusions as a one-time dose. They were derived from antibodies made by people who had recovered from COVID-19. (Phase III study)
To qualify for ACTIV-2, participants must have tested positive for SARS-CoV-2 in the outpatient setting within 10 days and started experiencing symptoms within eight days of enrolling.
ACTIV-2 is sponsored by the National Institute of Allergy and Infectious Diseases (NIAID), part of the National Institutes of Health (NIH), which also funds the ACTG. ACTIV-2 is part of NIH's Accelerating COVID-19 Therapeutic Interventions and Vaccines (ACTIV), a public-private partnership program to create a coordinated research strategy that prioritizes and speeds development of the most promising treatments and vaccines. It also receives support from the Federal COVID Response-Therapeutics, the U.S. government's multi-agency effort to accelerate the development, manufacture and distribution of COVID-19 vaccines, therapeutic and diagnostics.
"ACTIV-2's design enables us to simultaneously evaluate a range of treatment options and we are excited to identify agents that can treat COVID-19 early to improve symptoms, reduce transmission and prevent progression of disease," said ACTG Chair Judith Currier, MD, MSc, University of California, Los Angeles. "The ACTG aims to advance as many successful therapeutics as we can, making the treatment of COVID-19 simple and accessible."
ACTIV-2 is led by Kara W. Chew, MD, MS, UCLA and Davey Smith, MD, University of California, San Diego (protocol chairs); and David Alain Wohl, MD, University of North Carolina and Eric S. Daar, MD, Lundquist Institute at Harbor-UCLA Medical Center (vice-chairs); and supported by Dr. Currier and ACTG Co-Chair Joseph J. Eron, MD, UNC.
For information about enrollment in the trial at UMass Medical School, visit https://www.conqueringdiseases.org/Search/Trial/4541
For more information about ACTIV-2, visit the study website https://www.conqueringdiseases.org/Search/Trial/4541, www.actgnetwork.org or https://clinicaltrials.gov/.