UMMS soars in NIH funding, Blue Ridge Institute rankings
In 2020, UMass Medical School advanced to 21st—the highest in its history—in National Institutes of Health funding among the 140 medical schools, public and private, that receive NIH funding, according to the Blue Ridge Institute for Biomedical Research. The ranking is up from 38th in 2019.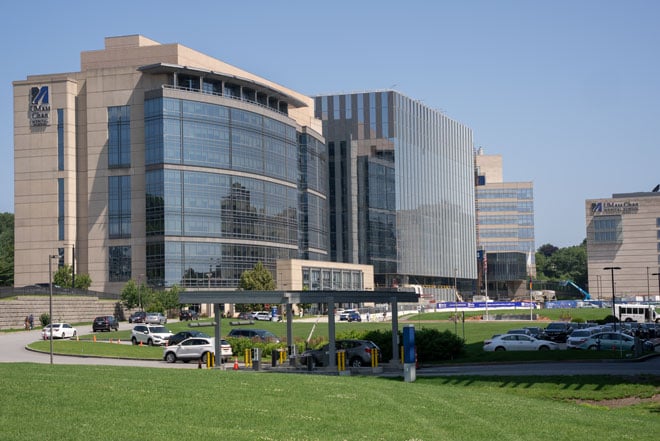 The Medical School was second only to the Yale School of Medicine in New England and eighth among all public medical schools in the U.S.
UMMS received $290.9 million in NIH funding in 2020, an increase from $151.9 million the previous year.
The rankings were reported this month by Blue Ridge Institute for Medical Research, an independent nonprofit organization that each year generates a series of reports on health science research funding from the NIH, the largest source of health sciences funding in the world, to biomedical research institutions.
UMass Medical School has consistently ranked exceptionally high relative to its peer institutions, based on the world-changing achievements of its faculty.
"As COVID-19 spread around the globe last year and presented an urgent need for impactful and effective research, UMMS faculty members were well positioned to respond to this challenge," said Chancellor Michael F. Collins. "Many researchers were awarded significant grants for COVID-19-related projects and our institution's dramatic upswing in NIH funding reflects our faculty's deep expertise in basic, translational and clinical discovery."
A significant increase in the Medical School's NIH funding is attributable largely to two awards, totaling $123 million, to administer the Rapid Acceleration of Diagnostics (RADx) program and its Clinical Studies Center. RADx is a nationwide strategic effort to develop and produce fast, accessible point-of-care tests for COVID-19, led by David McManus, MD, chair and professor of medicine. But research at UMMS grew by 5 percent separate from the RADx grant, demonstrating the breadth and depth of the institution's research enterprise, its leaders said.
"UMass Medical School has taken its place as the No. 8 public medical school in the U.S. in NIH funding, which is the 'level playing field' of national research competitiveness," said Terence R. Flotte, MD, the Celia and Isaac Haidak Professor, executive deputy chancellor, provost and dean of the School of Medicine. "We are so proud of the accomplishments of all of our faculty members and the contributions they are making to fundamental scientific discovery and the evidence base for clinical care."
UMass Medical School's research is also an economic driver in Massachusetts, contributing to the state's ranking as first in the nation in NIH funding per capita. Research institutions in the state received $488.62 per capita from NIH in 2020, placing it far ahead of Maryland, which is second in the U.S. with $377.30 per capita. Nationally, median per capita NIH funding was $71.42.