Medical student Kendall Burdick examining geographic, racial disparities in access to pediatric trauma care
Research funded by Emergency Medicine Foundation and Society for Academic Emergency Medicine
How quickly a child with a life-threatening injury gets to a pediatric or general trauma center can mean the best chance for survival. But access to trauma care varies greatly across the United States, according to UMass Medical School student Kendall Burdick, SOM '23. Burdick has been studying geographic and racial disparities with a one-year, $5,000 Medical Student Research Grant from the Emergency Medicine Foundation and the Society for Academic Emergency Medicine. She is one of four medical students nationwide to receive the funding.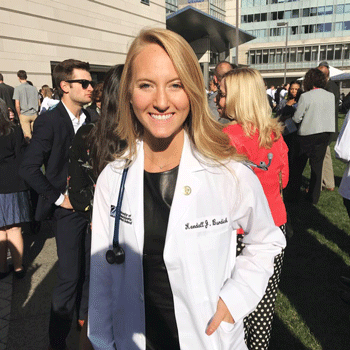 "Our study identifies differences in access to trauma centers by race or ethnicity and poverty concentration, and whether access to trauma centers match where fatal pediatric trauma occurs," said Burdick. "Findings suggest that locating new centers in different places instead of consolidating medical resources and expertise in the major cities where it is already available will improve equity in access."
Burdick's analysis showed that the distribution of pediatric trauma centers is concentrated around major cities, leaving vast areas of the U.S. underserved by these critical resources.
"Since kids are not little adults, it is important that they receive trauma care that is specific to pediatrics in a timely manner," said Burdick.
She assessed the availability of trauma centers within the "golden hour" distance for each census group in and delineated the racial, ethnic and poverty concentration make-up of those groups and their access to care. Her next step is to evaluate mortality outcomes in relation to pediatric trauma center access.
Overall, 31 percent of children ages 0 to 19 in the U.S. do not have access to a pediatric trauma center. Racial disparities are wide, with a high of 61 percent of Native American children lacking access and a low of 13 percent of Asian children. But while Black and Hispanic children living in cities have good access to pediatric trauma care, they have worse outcomes than white and Asian children.
"In addition to travel time and physical access, racial and socioeconomic factors such as implicit bias and insurance status can influence pediatric trauma mortality rates," said Burdick. "By illuminating the geographic disparities and racial and ethnic inequities that currently exist in the U.S., this research can inform medical and governmental organizations to clearly pinpoint the locations and populations who are in need of resource allocation and distribution."
The Emergency Medicine Foundation and Society for Academic Emergency Medicine jointly award stipends to encourage medical students to engage in and to be exposed to emergency medicine research. Burdick, an aspiring academic pediatrician, has been conducting the study with guidance from Michael Hirsh, MD, professor of surgery and pediatrics and assistant vice provost for wellness and health promotion at UMMS, and Eric Fleegler, MD, MPH, assistant professor of pediatrics and emergency medicine at Harvard Medical School.
Burdick will present her research at the annual Society for Academic Emergency Medicine national meeting being held virtually in May.
Related stories on UMassMed News:
NBC10-Boston report highlights UMass BaccMD program's role in reducing health disparities
Webb Camille sees research as key to improving health of patients
Second-year medical students lead course on intersection between wilderness and emergency medicine