National Institutes of Health research funding to UMass Medical School grew by 78 percent for the first quarter of fiscal 2021, which began July 1, over the same period a year ago, according to a quarterly report from the Office of Sponsored Programs. Grants and contracts from all funding sources increased by nearly 50 percent.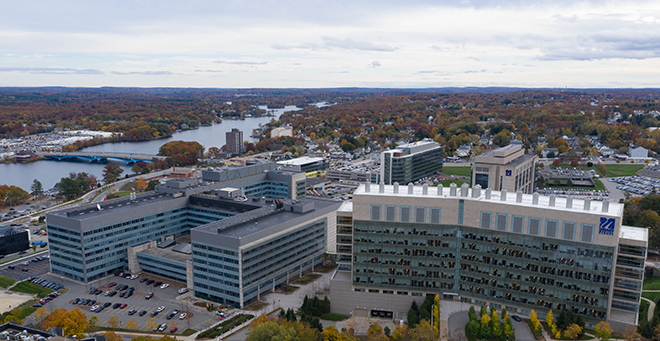 UMMS received $399 million in total grants and contracts between July 1 and Sept. 30, compared with $267 million from July to September 2019. NIH funding in the first quarter of fiscal 2021 jumped to nearly $300 million, from $168 million in the first quarter of fiscal 2020.
Two awards from NIH, totaling $123 million to administer the Rapid Acceleration of Diagnostics program and its Clinical Studies Center, comprise much of the increased NIH funding. RADx is a nationwide strategic effort to develop and produce fast, accessible point-of-care tests for COVID-19.
Still, "It is remarkable that our research grew by 5 percent even without counting the RADx grant," said Terence R. Flotte, MD, the Celia and Isaac Haidak Professor, executive deputy chancellor, provost and dean of the School of Medicine.
Dean Flotte continued, "It was not really surprising to us, having seen how quickly our faculty turned their research efforts to address all aspects of the COVID-19 pandemic. Their efforts range from the most fundamental studies of SARS-CoV-2 biology to novel RNA-based and small molecule therapeutics, to population-based studies of COVID-19-related health disparities."
Flotte said the RADx program was a direct outgrowth of the Medical School's point-of-care testing program development, an ongoing grant that has been funded under the leadership of David McManus, MD, professor of medicine, co-director of the Center for Advancing Point of Care Technologies and co-principal investigator for RADx with Bryan Buchholz, PhD, chairman and professor of biomedical engineering at UMass Lowell.
Laura Gibson, MD, associate professor of medicine, co-leads the RADx Tech Clinical Studies Core, within which the studies testing novel POC diagnostic devices in the U.S. are based.
The RADx grant is closely connected to efforts of Katherine Luzuriaga, MD, the UMass Memorial Health Care Chair in Biomedical Research; vice provost for clinical and translational research; professor of molecular medicine, pediatrics and medicine; and director of the UMass Center for Clinical and Translational Science, as PI of the NIH Clinical and Translational Science Award, which is funded through 2025 to bring forward new diagnostics, therapies and biomarkers developed from UMMS discoveries.
"The tremendous success of RADx bodes well for other successful collaborations that cross between medicine and other disciplines at the other UMass system campuses," added Flotte.
Research areas receiving the most funding this year are: clinical and translational science, $130.6 million; molecular, cell and cancer biology, $23 million; advanced therapeutic clusters, $21.1 million; molecular medicine, $21 million; and infectious disease and immunology, $19.5 million.
"We are very proud of the depth and breadth of all the research power that UMMS faculty have brought to bear on this most dangerous pandemic," said Flotte.
Related stories on UMassMed News:
UMass Medical School receives $100 million in NIH grants to lead push for fast, accessible COVID-19 tests
UMass Medical School granted five-year, $30 million Clinical and Translational Sciences Award
UMass Medical School ranks in top 25 percent of medical schools in NIH funding